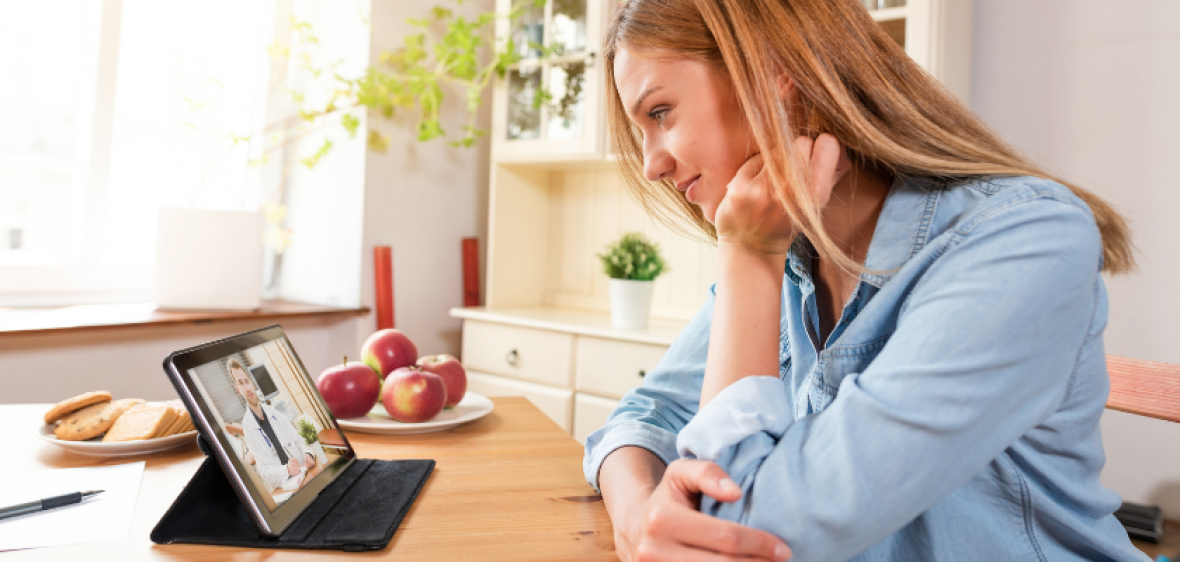 For a while, it was simply high health care costs making the steady push towards health care consumerism. But with the onset of the pandemic, health care consumerism has burst out in the open. There have certainly been innumerable hardships, but nearly every hardship has had a silver lining. In the case of health and benefits, there have been a few.
Telehealth is in the spotlight.
We all witnessed the abrupt shift to telehealth as an answer to an immediate problem. It was unsafe to gather in groups indoors, especially for those immunocompromised. And telehealth provided access to care in a safe way at a time when it was needed most. McKinsey found that usage peaked during April 2020 but has stabilized at levels 38 times higher than before the pandemic.1 Perceptions have shifted and that's encouraging for the future of telehealth.  
HSA adoption and contributions have increased.
The high cost of care combined with financial uncertainty during the pandemic led individuals to look for ways to save. HR and benefits leaders have always tried to help employees connect the dots between the benefits of a health savings account (HSA). Now, it's finally paying off. According to our own State of Employee Benefits™ 2021 report, more than 90 percent of HDHP subscribers opted into an HSA for 2021. HSA participation is striking a particular chord with the youth. Since 2018, the percentage of Gen Zers with an HSA has more than doubled. Of course, adoption is just part of the equation. It also matters how much is contributed. The good news is that, overall, employees have contributed more to their HSAs each of the last four years, with the most significant increases coming between 2020 and 2021 for both family- and individual-coverage accounts.2
A more connected experience than ever.
With apps for retail, transportation and lifestyle, consumers can connect to all kinds of interests through their mobile devices. Health care shouldn't be any different. And luckily, that space has been growing. Health, fitness and mindfulness apps have helped individuals manage the mental and physical strain of lockdowns and work from home orders. At the same time, mobile apps for employee benefits have given them a convenient way to stay connected to the benefits they may need to use at any moment. Mobile apps also provide employers an additional way to communicate to a more dispersed workforce.
It's exciting to see changes like these unfold before our eyes. Modern employers have been encouraging health care consumerism for some time. Now that health care has taken center stage, employees are ready to take on the role of savvy health care consumers. And they're paying more attention than ever. In fact, Deloitte research finds that consumers "are using tools to get information on costs and health issues, are tracking their health conditions and using that data to make decisions, and accessing and using their medical record data."3
So, what does all of this mean for employers? Simply put, companies have an opportunity before them. They can double down on the people experience to differentiate themselves, providing a benefits experience that matches employees' needs. While they're doing so, they can also promote health care consumerism to control costs.
The Health Care Consumerism Takeaway
In this changing health care landscape, one thing is certain. Employers have a responsibility to continue pushing employees to be resilient health care consumers while providing the benefits experience and options savvy health care consumers expect. That looks like:
Convenience with access to mobile apps, telehealth, and more
Transparency with decision-support tools like cost estimators as well as a clear view into their benefits, health care claims and HSA accounts
Personalization with comprehensive benefit offerings that meet the needs of employees' demographics and communication that engages them in those benefits
Connection by encouraging preventative care, identifying opportunities for employees to use prescription drug savings programs, and helping members avoid unnecessary procedures
There is a lot to be said for employers and employees that are surviving and thriving in this moment. By embracing health care consumerism and differentiating on the people experience, both employers and employees can withstand whatever challenge comes next.
Want a look behind the growth of consumer-driven health plans? Download the 2021 State of Employee Benefits report to see trends over the past four years. 
Source(s):
1 McKinsey, Telehealth: A quarter-trillion-dollar post-COVID-19 reality?, 9 July 2021
2 Benefitfocus State of Employee Benefits™ 2021 Report
3 Deloitte, Are consumers already living the future of health?, 13 August 2020