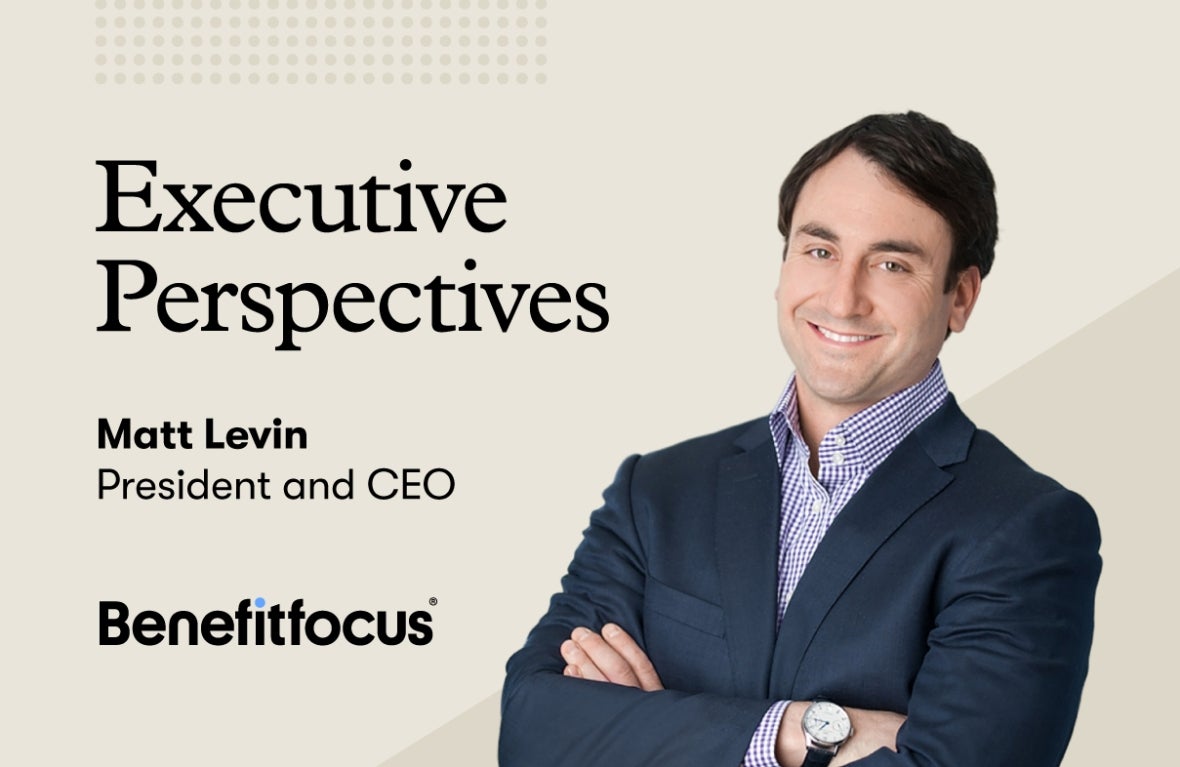 Welcome to Benefitfocus' Executive Perspectives! This new series features insights from thought leaders about benefits trends: what's impacting the industry, what's most important to today's employers, employees and health plans and what's driving innovation. In our inaugural edition, Matt Levin, (former) President and CEO of Benefitfocus, shares his views on several factors influencing how organizations think about benefits. 
Q: What are the key macro trends influencing benefits today?  
A: It's fair to say that the big problems employers are trying to solve – costs, access, taking care of people – haven't changed a ton over the past couple of decades. It's the sophistication with which we're able to address these issues that has gotten much more pronounced over the past few years and what makes this an exciting industry to work in. Even so, the stakes are definitely rising.  
Compared with when I entered the workforce in the mid-nineties, benefits are a much bigger part of the value proposition that employers are offering employees. We're in a tight labor market in which candidates hold the cards. Attracting and retaining talent is going to be a pervasive theme for the near future, particularly as the population ages – and, on the other end, the youngest generation of workers come into their own.  
Expenses for corporate-sponsored health benefits have also grown in a big way; these are big dollars that companies are spending. Regulatory compliance is yet another force that can lead to high-stakes pivots, keeping all stakeholders on their toes. Benefits are not just an HR topic anymore and haven't been for a long time; benefits are an HR-plus-C-suite conversation, which changes the dynamics of an organization's benefits strategy.  
The trends come down to a fascinating and often complex interplay between the rising costs of health care, the increasing value of employee benefits to today's workforce and the importance of supporting consumer-friendly benefits experiences that meaningfully leverage data. 
Q: What do you think are the things that keep employers up at night with respect to benefits?  
A: Since the pandemic, people have more intimacy with the health care system, and the sophistication of choice has increased dramatically – along with their expectations. For example, people are talking more about mental health and how employers can help them manage it; in younger workforces, things like fertility benefits can be a differentiator in attracting and retaining talent. There are some clear game-changing shifts in the way organizations need to approach benefits moving forward. 
That's why I think the challenge for benefits professionals, whether they're consultants, brokers, employers or health plans, is figuring out all the things that they could be offering their constituents and understanding what really matters to them – and ultimately, what will move the needle towards their goals of protecting and improving people's health and well-being. Leaders need to know what benefits lineup is going to differentiate them competitively and result in better outcomes; from a benchmarking perspective, they're eager to know how they're doing relative to the broader market.  
These are big "asks" that we must work together to answer and solve. There are so many dots to connect. That's why developing relationships with stakeholders and leveraging data-rich insights to inform strategy and service will continue to move the industry forward. 
Q: How would you describe health plans' evolving role in today's benefits ecosystem? 
A: Health plans are responding to the same macro trends as employers – after all, they're serving the same customers. Whether they're called employees or members, they are people who use the health care system. As both employer and consumer expectations evolve, health plans continue to adjust plan designs, provider networks and care and wellness program options. 
With more consumers moving to government funded health care – Medicare growth, ACA growth, Medicaid expansions – health plans must be efficient at reducing overall costs, including medical and administrative costs that will keep rising as care delivery systems continue to consolidate with larger systems buying smaller independent practices and rural hospitals. This means health plans are looking for effective ways to guide customers to the highest value care at the most appropriate setting.  
Critically, they're addressing all of this while also adhering to increased regulatory requirements and delivering market-competitive products! That's why we're seeing plans rapidly expanding into more cost-effective virtual care offerings for things like pediatric specialty, dermatology, mental health and even physical therapy. In this respect, health plans are positioning their brands as more in the wellness space, representing not only the medical insurance product, but also other benefits that work together to offer a more comprehensive, whole person "end-to-end health care experience."    
Q: What do you think is the key to driving benefits engagement? 
A: A common lament is, "My participants spend all year feeling unsure about the 'fit' of their health plan and wondering if they're making the most of their benefits and then they have one time a year to do something about it – open enrollment – and most people spend only a few minutes reenrolling in the same thing!" This resonates, doesn't it?  
The key to the solution is meeting people where they are so that their benefit choices and interactions are easy, meaningful and rewarding.  
As a benefits administration company, we have the important job of enabling all the players in the broader ecosystem – including brokers and partners and carriers – to support, educate and empower individuals at points of need throughout their careers and health journeys. Innovation in our industry has to focus on delivering a great experience for employees and members so that they'll engage in choosing and using their benefits.  
There's a lot that we can do from an enrollment perspective. The sophistication of the tools that people can use has gotten a lot greater over time, making it easier to deliver a more personalized and curated enrollment experience. Thanks to claims information and better actuarial statistics, for example, we can recommend the right sorts of benefits bundles to fit people's particular life stages. We can share tips on how best to use a high deductible plan or help steer them towards voluntary benefits designed to offset costs associated with known health conditions. It's not about choosing plans for people, but rather giving them a greater sense of comfort by engaging them in choice points in ways that are much more personal to them and give them confidence in their decisions, so their lives are made better by them. 
Q: What is the role of service in benefits administration? 
A: Let's face it: benefits administration is hard, complicated work. It's also table-stakes. For instance, look at the complexity of the data that industry players must get right on a daily basis, from eligibility files to payroll files and deductions. It must be "right" before we can even think about delivering front-end service, such as a great digital experience or the right call center experience for someone.  
Getting service "right" is about helping people through life events. People get sick, or there is a death in the family; a child has a medical issue, or a spouse gets pregnant. These life events happen, and there's only so much technology can do to help people navigate through it. What happens when an inaccurate claim is put forward or a physician denies service when the benefit plan provides coverage for it? It's not being on hold for 10 minutes, and it's not "Let me get back to you" with no follow-up. Delivering service means personally empowering people through a complex set of benefit choice points and resolve issues by getting them to an outcome that is somehow net helpful in their own health journey. 
This brings me to the role of benefits consultants and brokers: helping organizations figure out the right bundle of products and services they want to offer employees and their families is a critical job. And not everybody does it well. A good consultant is worth their weight in gold. It's important for industry players to make sure that those advisers have all the tools that they need to ensure that their customers succeed.  
Q: What are your thoughts on the convergence of health and wealth in the benefits space? 
A: People have been talking about the convergence of health and wealth for a long time, which is an exciting opportunity. Health expenses have a material impact on retirement readiness. A leading cause of bankruptcy or financial stress is health care. The amount of credit card debt and the widespread use of 401(k) hardship withdrawals to pay for health care expenses is a real problem.  
The opportunity for us is to take data and what we know about individuals and combine them to help people make better decisions. Help them see that rather than taking a hardship withdrawal, there may be a benefit they can leverage to protect their savings. We can help people use things like HSAs and other tax-advantaged programs to better plan for retirement. They have many decisions to make, and the goal for us is to have people make more educated choices about their health and wealth lineup so they can protect more dollars for retirement.  
I've spent most of my career tackling these challenges and trying to come up with better solutions, particularly in a world where I don't know what's going to happen with entitlements like Social Security, Medicare and Medicaid. But what I do know is our deficits are the greatest they've been in the history of the country, and the prospect of retirement readiness is on shaky ground for too many people. We have an ageing workforce, and all the trends are pointing us into a place where we can get better at making these planning decisions between health and wealth. And for us to be in the center of that and have a role in helping our community of stakeholders land in a better place is very exciting. There's so much potential in what we can do, and we've only scratched the surface!