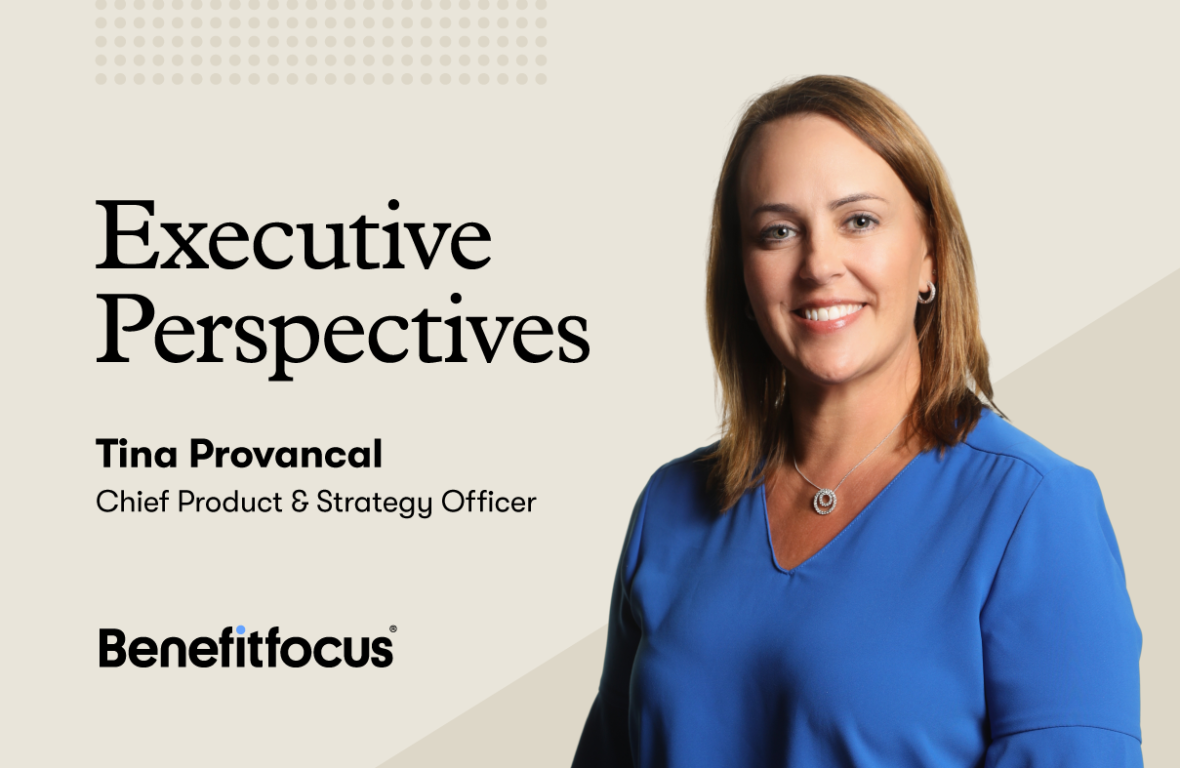 In this installment, Tina Provancal, our Chief Product and Strategy Officer, discusses her vision for the future of the benefits experience, posing compelling questions about what it takes to "change the game" for employers, health plans and the people they serve. 
Q: Considering the macro trends in the industry that are impacting employers and health plans, where do you think the industry is heading within the next five years?  
A: In the 28 years I've been in the industry, I've seen employers and health plans challenged by the same trends: Continually rising costs and the need to attract and retain top employees or satisfied members, both of whom are largely disengaged. Most recently, there's the added complexity of multiple generations in the workplace, representing end-users with unique needs who consume health care differently. Additionally, employers and health plans generally lack the ability to spend on the technology required to quickly innovate and automate.  
There are a lot of factors that drive these realities, and we are still only making incremental progress, while the problems themselves are getting more and more challenging to address. One alarming trend we need to take seriously is the lack of retirement readiness among American workers, an issue that inherently overlaps with health care saving, spending and debt. As an industry, we've traditionally put health and financial benefits on different tracks, which has made it hard for individuals to appreciate how interrelated they actually are. Research from the Insured Retirement Institute found that an estimated one-third of workers are saving less than 5% of their income for retirement, when they should invest closer to 15 to 20 percent. This is an unsustainable status quo, and a problem that can be solved, in part, by employees making health and financial benefits decisions as part of a connected experience. 
I honestly think we're going to be dealing with the same challenges for a while, and the ongoing impact will lead employers and health plans to think about things differently, even about how they define employee and member benefits. Rather than focusing on just core benefits, like medical and dental coverage, they'll have to think about addressing the unique needs of the individual – including the interdependencies between health and financial benefits. This has to include breaking down the workflow and mindset silos that tend to exist between health and financial benefits so that employees can start thinking about and using them together. 
People are making the wrong plan choices and then using their plan ineffectively all year long – because they don't know how to make the right choices. And I think we're still going to be fighting this in the next five years. It's more critical now than ever for employers and health plans to find smarter ways to help support them.  
Employees of all levels are leaving their jobs, so employers are going to have to get creative in their retention strategies and benefit packages, which are going to have to include corporate culture efforts, voluntary benefits, recognition platforms and perks to attract and retain talent. Hybrid work setups are here to stay, too, so other benefits could include more flexible work locations or redesigned office spaces. 
Mental health is a looming concern. Providing services and support for the mental health needs of employees and their dependents will be imperative moving forward, especially with Gen Z growing up in the workforce. The company who cares about the whole person and puts that piece first and foremost will be the one to crack the code.  
Q: What trends do you think will impact health plans in the next five years?  
A: The problems faced by employers and health plan organizations are very similar. People are people, and you're either competing to retain them as employees or health plan members. But from a health plan perspective, I think there is some nuance in what's required to retain members and help people engage and understand their plan.  
Health plans have to deal with competitive network designs and getting members to use high-quality care. Retaining members when they age out or lose coverage for any reason is another problem for health plans to solve, so being able to "catch" the member and have a compelling reason to retain them will be game-changing for them. Too often, a health plan's need to keep up with compliance and administration comes at the expense of such opportunities for member engagement.  
Similarly, technology capacity and prioritization against other health plan initiatives are the other pain points for health plans. They battle for tech resources to innovate and drive the digital experiences members demand, leading them to look for external solutions to help them stay ahead.  
Q: What issues are keeping employers or benefit leaders up at night?  
A: They certainly worry about rising health care costs, and they struggle with retention and productivity. But I think the biggest thing keeping them up at night is the question, "How do I get the attention of my employees, demonstrate the value of our benefits spend, help them best spend their next benefits dollar and give them the tools they need to use the right resources at the time they need them?"  
There are so many new health tech companies coming on the scene, like specialty point solutions, navigation and advocacy, wellness and rewards, and engagement services. But how do leaders know which are most effective? They struggle with how to determine which solutions they even need and how to organize them as part of their larger employee benefits offering. And once they enable these solutions, they need to know how to get people to engage and see value in the offerings.  
People see value in the benefits and programs that they care about or need, and benefits leaders are challenged with the opportunity to help them make a more meaningful connection. For instance, when employers offer a spectacular range of benefits on their portals to show the depth and breadth of their package, they often get the wrong result. Employees tend to get overwhelmed with options and don't perceive the large benefits menu as a sign of how much their employer cares about them. What they see is wasted spending on programs they do not value. For greater impact, employers must leverage what they know about an individual employee to highlight only what is relevant and meaningful for them. 
I had a very close friend who recently needed health care for her daughter. She jumped through so many hoops and wasted so much time making phone calls looking, unsuccessfully, for a provider who was both taking new patients and providing high quality care – all because she didn't realize that her employer had a service that would have handled it all for her! That example, for me, perfectly sums up the awareness and engagement challenge facing employers: If your employees don't find the benefit or resource at the precise point in time when they need it – no matter how often you advertise it – they're simply not going to make the connection.  
That's a hard problem to solve, but it's solvable if you can effectively make the connection and get them to the right place at the right time! Doing this effectively will build their trust and keep them coming back for more. 
Q: How can employers best demonstrate the value of their benefits package to employees – and health plans to members? 
A: Employees and members keep asking for one place to go for everything they need. There are too many silos for people to search – retirement, health coverage and other Human Resource benefits like PTO and reimbursement programs. By giving people one central place for all their benefits, even if they don't know what they need, they at least know where to go for help.  
By serving up only what they need, at the time they need it, employers won't only engage their employees, but they'll clearly demonstrate the value of their benefit package. 
Benefits administrators are in a unique position to solve this problem; however, none have been able to really deliver strong outcomes to date. Too many companies are trying to be the solutions or deliver all the services versus focusing on being the aggregator who gets people to what they need easier and faster than anyone else can.   
Health plans are in a similar situation. It's often not clear to people what exactly they should do to help themselves when facing an opportunity to engage with their health plan. Call-to-actions and incentives are often buried on hard-to-find website pages and any plan communications they may have received were ignored for lack of relevancy in that moment.  
The solution is to serve members with clear and timely "do this" messaging that's always up front and center. Points of engagement need to provide intuitive navigation and foolproof instructions so that members can get conditioned to have their needs met precisely when they need to. 
This isn't simple to achieve – but it's the way to change the benefits experience for today's employee-members. Exploring how to get there is what's next on the horizon. 
Q: When you talk about "changing the game" in benefits administration, what does this mean for employers and health plans in the years ahead? 
A: I'll give you an example: when you go to your Amazon account, you have a tailored experience that is unique to you. While all users see the same visual structure, the content being advertised to you is different, served up in a one-of-a-kind way. That's because Amazon is aggregating your user data every time you use the service and using it to recommend precisely the content you're likely to enjoy – or don't even realize you need! 
A truly individualized, consumer-grade benefits experience – one that's stripped of the barriers that prevent people from making the best health care decisions – is the answer. If you have ever used Waze for real-time driving directions, you know that it will give you the best route to your destination using live traffic updates, making getting from Point A to Point B easy. Why is this? Because they do the hard work for you. Benefit Administrators are in the perfect position to do this. We invest a lot of time in educating people on how to make better health care and retirement decisions – imagine if we instead quickly got you where you needed to go by removing all the barriers that get in the way.   
That's changing the game! 
Q: What's the role of benefits data in People Analytics? 
A: People Analytics on their own can give you deep insights into your employee base. Things like what benefit offerings are valuable to employees, what happens to employee retention trends after program changes are implemented, or how a company can attract new talent with a more competitive total compensation package can all be revealed by studying People Analytics. 
Consider our approach at Benefitfocus. As a benefit administration company with connections into many markets, the data we bring into our platform is incredibly robust. Beyond the usual data you might expect such as eligibility and enrollment data, demographic and geographic data, and the kind of data someone may enter during an enrollment experience (like their communications preferences), our value really becomes unmatched when you couple all that information with additional elements like medical and prescription claim data, predictive risk data and more.  
We are just starting to scratch the surface on the analytic capabilities when you bring this data together at the member-level and empower HR leaders to use People Analytics to ensure they are retaining employees and offering benefit and compensation programs that will solidify their position as valuable employers. Think about the power of that coupled with new advancements and you can imagine the insights that will be surfaced to assist HR leaders and benefits teams with continuing to improve the talent in their organizations while also reducing their health care costs. 
Q: What does the future of workplace benefits look like? 
A: We're striving to help create a future in which people enjoy a connected experience across all their benefits – and they're equipped to leverage the symbiotic relationship between health, retirement and savings. We are moving from a considerably disjointed and siloed approach to choosing and using benefits to one that is holistic, where one decision impacts another and ultimately provides more protection and confidence.  
Enabling this reality for employees requires a fresh "take" on benefits administration that changes the way employers support and guide employees' benefits decisions, actually embedding personalized recommendations within an interactive enrollment experience. Employees select the plans that best fit their needs and know how much money from their hard-earned paycheck to put aside for health care expenses and retirement. This might look like an employee selecting a high deductible health plan and investing their premium savings in a health savings account or a deferral into their retirement account – a powerful pair of decisions that can change the game for an individual and their family's financial future.  
At the end of the day – and into the future – the result of the shift that's happening is a more empowered and benefits-engaged workforce, whose optimized workplace benefits behaviors also help drive more favorable outcomes for all stakeholders. The solution is as clear as the problems, it's the journey to realize new and different outcomes that need to change.   
Albert Einstein once said, "The definition of insanity is doing the same thing over and over and expecting different results." Let's do something different. It's time to change the game!