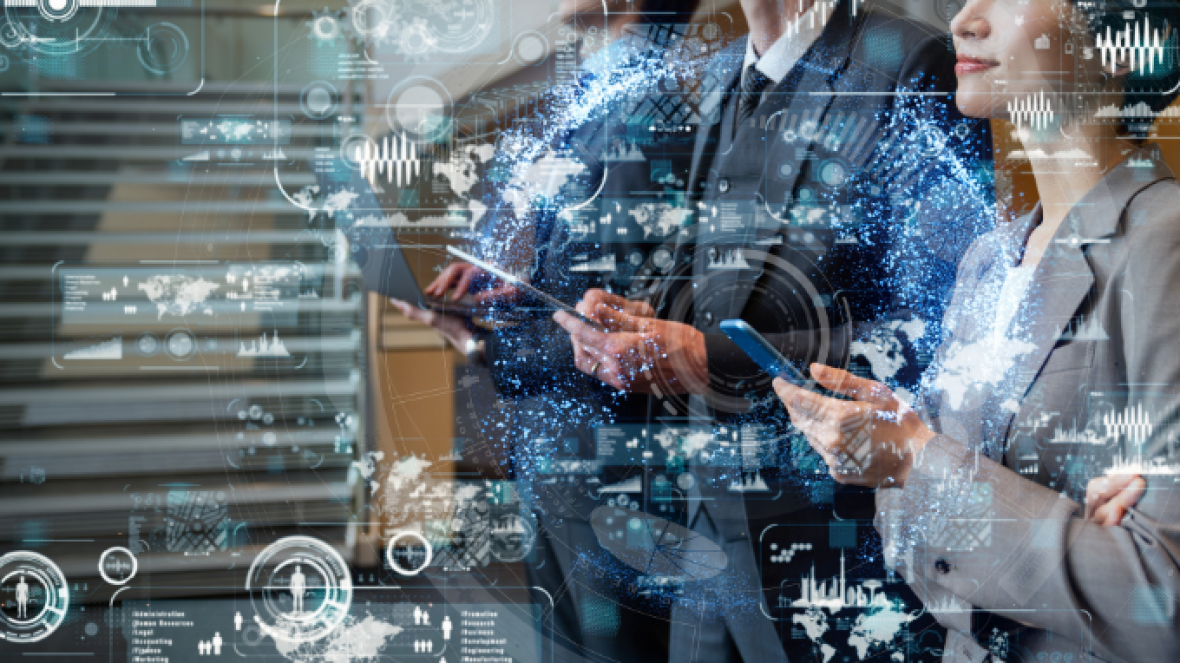 Right now, three macros trends fundamentally impact the day-to-day operations of every HR team: 
1. Rising health care costs 
U.S. health costs reached $3.8 trillion annually in 2019, and non-government employers pay 20 percent of that figure.1 Health care costs consistently outpace inflation and make up one of the largest line items in almost every company's budget. To put this in perspective, Starbucks spends more on health care for its employees than it does on coffee beans. 
2. Budgets are being pinched 
Budgets are under more pressure than ever, and HR departments are being asked to do more with less. COVID-19 accelerated this trend for many industries—and even for unaffected industries, the uncertainty surrounding future variants has often led companies to become more risk-averse and restrict spending. 
3. Workforce shifts 
Attracting and retaining the best talent is the key to company growth and sustainability. The economic changes surrounding COVID-19 have given employees more choice than ever, leading to the largest upheaval in talent in two decades: 
69% of employees plan to job hunt in 2021, up from less than one-third in 2020—and for 36% of them, better compensation and corporate benefits is the top motivator.2  
Offering the best benefits in a cost effective and tailored way can help employers stand out from the competition when it comes to recruiting and retaining talent. 
So how can they afford a differentiated benefits package with rising costs and lower budgets?  
Benefitfocus Chief Data Officer John Thomas recently outlined how HR leaders can use data analytics to solve this challenge at the 2021 HR Tech Conference in Las Vegas.  
Here's an overview of his session: 
The Role of Data and Analytics 
In the data world, there are four types of analytics: 
Descriptive (what happened) 
Diagnostic (why it happened) 
Predictive (what might happen) 
Prescriptive (recommended actions) 
Let's look at some example data and analytics from these categories and how these insights can help companies address their challenges. 
Between 2019 and 2020, we saw three key trends: 
1. A 20% increase in mental health plan payments year-over-year.3
COVID-19 brought about many changes in the types of care people sought, including the rise in mental health utilization. By understanding changes in employee needs, companies can modify existing plans or search for vendors to help them offer benefits that serve their employees. 
2. Deferred care as a result of COVID-19. 
Nearly half of the public say they skipped or delayed care in 2020.4 And when health problems arise from non-treatment, employers could be left with a heftier bill. To address deferred care, companies may want to engage external partners to help with compliance or invest in more internal marketing to help ensure employees are current with annual screenings, physicals, etc. 
3. The rise of telehealth adoption. 
Employer could be prompted to alter plan design and employee communication to encourage further uptake. This could help to drive savings for employers and employees. 
In all of these cases, descriptive and diagnostic analytics help companies get a picture of what has happened to understand better how they can address emerging trends. 
Descriptive analytics can also help companies understand changes in employer offerings. Some of the top trends we saw in our State of Employee Benefits™ 2021 report include: 
The shift away from single health plan offerings between 2018-2021. To provide more options for employees, employers are offering more choices in their health plans. Almost 71 percent of large employers offered a combination of PPOs and HDHPs in 2021. This is interesting because up until 2019, the threat of the ACA's "Cadillac tax" still existed, which many thought would push employers to offer HDHPs exclusively. 
Employers taking on a higher percentage of premiums in 2021. Health care costs went up, but employee premiums didn't… so that left employers to pick up more of the tab in 2021 for most plan types, except for family-coverage HDHPs. This is the first time any health plan has seen a decrease in employee cost-sharing since 2018, indicating that employers acted to protect employees from the financial impacts of the pandemic. 
Employees participating in voluntary benefits, regardless of health plan choice. Many employers now offer voluntary plans to augment their offerings, and employees are adopting them. Participation in voluntary benefits is consistent across different plan election types showing that employees value these offerings regardless of their primary benefit choices. 
HDHP participation is up 30% since 2018. Traditional PPOs have been the plan of choice for a long time, which held true in 2021. However, HDHPs are gaining traction as they've become more ingrained in the health care landscape. When given a choice between a PPO and an HDHP, employees are increasingly opting for HDHPs. 
Millennials had the highest HDHP participation across all four years. Workers of all ages are adopting HDHPs, except for traditionalists who are often eligible for Medicare plans. Millennials continue to be the highest adopters, while Gen Z still has low participation in health plans overall. 
Both HSA participation and contributions have risen significantly since 2018. Increased HDHP adoption has naturally led to an increase in HSA participation. More than 90 percent of HDHP subscribers opted into an HSA in 2021, up from 83 percent in 2018. Consistent with HDHP adoption, millennials have the highest participation at 31 percent in 2021. 
Average total HSA contributions exceed 60% of the 2021 IRS limits. Employee contributions have risen while employer contributions have remained steady over the last four years. Combined with employee contributions in 2021, the total is 62 percent of the maximum allowed contribution for family HSAs and 67 percent for individual HSAs. 
Based on the data, it's clear that employers are making changes to their benefits programs to address changing employee needs. In turn, employees are changing their behaviors to take advantage of new benefits opportunities. 
These changes demonstrate that employers have the power to make positive changes and influence employee behaviors to reduce costs, improve health outcomes, and attract and retain top talent. 
Using Data Analytics to Predict the Future 
It's great to learn from past data. Even more powerful, though, is the ability to predict what might happen next. This is where predictive analytics come in. 
Decision support tools that leverage health claims data from the previous year can help employees predict out-of-pocket costs for each health plan available to them. Employees can also customize their expected usage based on things they expect to happen in the next year, for example, due to a planned event like the birth of a child.  
This use of predictive analytics has huge benefits for individual employees. There's also broader application for employers—measuring the financial impact of plan changes across their entire workforce. 
For example, an employer may consider several plan changes, such as: 
Increasing emergency room and inpatient copays 
Increasing the single deductible 

Adding a family deductible 
Using predictive analytics, they can see the impact to plan payment as well as member copays. Taking things a step further, predictive analytics tools can show companies what fraction of their population would be impacted by a change and how. 
Companies can also use predictive analytics to estimate the ROI of a vendor program. For example, musculoskeletal treatment is a big cost driver in many employee populations. Using claims data, a company can identify the targeted employee population and predict the impact a program would have on those individuals—and ultimately, estimate the ROI of the program. 
Acting on Analytics 
Prescriptive analytics is the holy grail of data—it tells companies how to solve their problems. However, there's a challenge: knowing what to do is only helpful if you can act on it. 
This is where automation comes in. 
Employers can continuously learn and improve their benefits programs by combining data, computerized analysis algorithms and automated actions. This is what we call the data flywheel. 
Let's see it in action. 
Prescription drugs are one of the leading cost drivers for self-funded employer health plans. Since 2014, prescription drug prices have increased by 33 percent—a higher growth rate than other medical services, such as inpatient care, nursing home care and dental services.5 
When it comes to controlling costs, prescription drug spending—particularly for "maintenance drugs" that treat chronic, long-term conditions—is an area of opportunity. But lack of transparency in drug prices makes realizing savings difficult. 
Typically, when a physician prescribes a drug, they don't know the drug's price relative to the patient's health plan. Often, for the drug a physician prescribes, an alternative generic or equivalent drug is available at a lower price. However, the patient, who is also likely not an expert on their health plan, will simply purchase the branded drug their physician prescribes. This causes wasteful spending for both the employer and the employee. 
To solve this problem, there's a need for greater transparency in the prescribing process to ensure plan members get the drugs they need at the most affordable price. 
Here's how the problem can be solved using the data flywheel. 
Through ongoing analysis of prescription claims data, Benefitplace Rx Insights proactively identifies maintenance drug prescriptions with a cheaper alternative and automates the process of getting the prescription switched. 
This simple, automated process enables: 
Greater Transparency. Rx Insights puts drug cost information in the prescriber's hands and takes the work out of finding beneficial alternatives. 2,000+ therapeutic equivalent drug switches are available on the platform. 

Lower Costs. Prescription behavior change creates savings that complement the employer's PBM or pharmacy consulting strategy, leading to a 5-15 percent reduction in annual prescription spending. 

Higher Satisfaction. Plan members get the medication they need at a more affordable price, keeping them healthy, improving medication adherence, and saving them money while requiring no effort on their part. 
See How Data and Analytics Can Help Your Company 
Benefitplace™ provides flexible, easy-to-use tools that help employers and employees make better decisions about their benefits. From cost savings to improving health outcomes, analytics can help your company drive its benefits strategy forward with deep, data-driven insight. 
To learn more about how data and analytics can help your company reduce costs and attract and retain top talent, visit our website. 
1. CMS
2. Achievers Workforce Institute
3. Behavioral Healthcare Executive
4. Kff.org
5. GoodRx