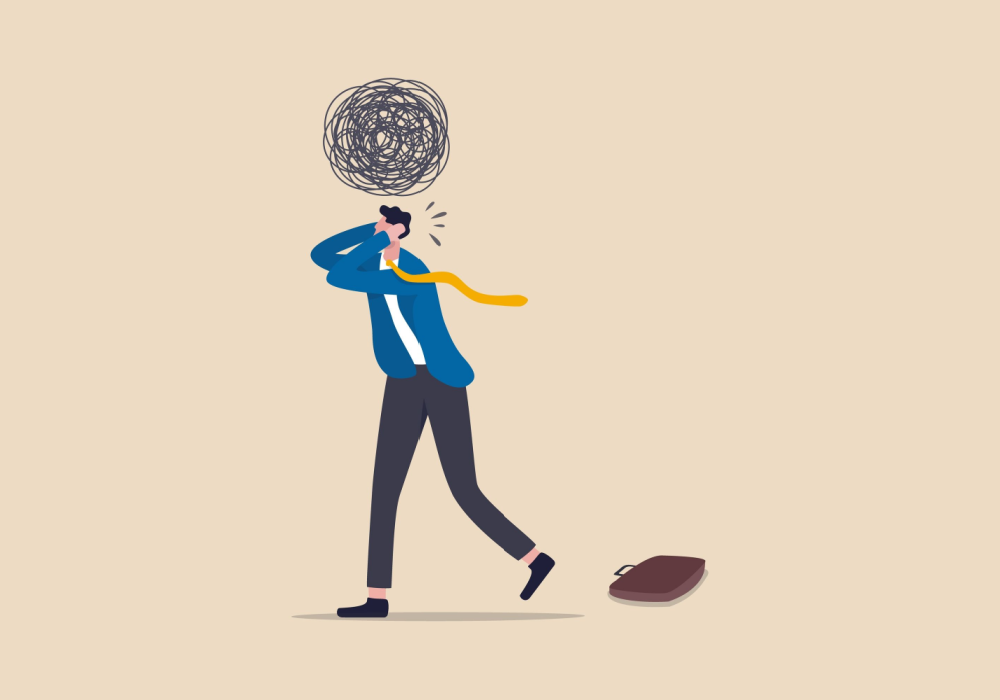 Benefits professionals who consult with employers on workforce benefits know first-hand how providing mental health support to employees is mission critical. Whether an organization is fully- or self-insured, their HR team needs to be sure they're covering their mental health "bases" to not only take care of their people, but to remain competitive in today's job market.  
Having conversations with employer clients around all-things-mental-health is becoming the new normal for brokers and consultants, so we've developed some ideas to help make the most of them. 
Know – and Share – the Facts 
As a benefits consultant, having research at your fingertips can help you investigate client challenges, make it easier for clients to understand the scope of the problem at hand and back up your guidance. Your consultancy or advisory team may have volumes of insights to tap into, but here's a roundup of key workforce mental health messages with statistics to support them:  
Employees' need for mental health support is here to stay.
The World Health Organization reported, pre-pandemic, a 13 percent rise in mental health conditions and substance use disorders in the decade leading up to 2017. Mental Health America research found 21 percent of U.S. adults experienced a mental illness in 2019-2020, and then came Covid-19; awareness and the need for resources exploded.  
Research by the Integrated Benefits Institute found that while symptoms of anxiety and depression fell from 40 percent during the pandemic to 35 percent in 2021-22, Americans taking mental health prescription medications grew from 20-22 percent and unmet counseling needs rose from 12-14 percent. 
And today, according to the National Institute of Mental Health, over 50 million Americans experience a mental illness. In fact, Kaiser Family Foundation found that 32 percent of U.S. adults had symptoms of anxiety or depression based on data collected in the first two weeks of February 2023. 
Many Americans still struggle to get treatment for their mental health illnesses.
Mental Health America reports that over half (55 percent) of adults with a mental illness do not receive treatment, a concerning statistic at any rate. What's more, fifteen (15) percent of adults had a substance use disorder in 2022, of which an alarming 93 percent did not receive any treatment. 
Costs are a significant barrier to receiving mental health treatment. Again, Mental Health America reports that over a quarter (28 percent) of adults with a mental illness aren't able to receive the treatment they need, with cost being the main barrier for nearly half (42 percent) of these cases. Notably, 23 percent of adults who experience 14 or more mentally unhealthy days each month are unable to see a doctor due to costs.  
While all the individuals represented in the sample size are not necessarily employed, these figures should be taken seriously by employers, whose workforce is most certainly impacted by the costs of care. 
Employees expect mental health support.
This isn't news to any employer, but it's important for them to recognize that mental health coverage mirroring what is provided for physical illnesses and injuries isn't a nice-to-have. Today, 77 percent of employees believe employers have a responsibility to ensure employees are mentally healthy and emotionally well.  
Employers are feeling the pressure to offer employees more comprehensive mental health coverage. According to the 2022 Kaiser Family Foundation Employer Health Benefits Survey, 48 percent of large employers saw an increase in the share of employees seeking mental health services in 2022. 
Expand Employee Health Care Coverage 
Since some of your clients are fully insured and others are self-insured, you may be advising around different ways to navigate the health care coverage landscape. In any scenario, health plans are a major part of the solution to addressing employees' growing mental health care needs, from access to care to coverage. In fact, in 2023, 84 percent of health plans offer plans that cover mental health services — a significant increase from 74 percent in 2022.  
You may be able to provide some guidance around plan design and/or solution partnerships. Potential areas for improvement include: 
Ensuring sufficient in-network behavioral health providers to allow timely access to services 
Covering sufficient psychological and/or psychiatric counseling sessions (e.g., weekly) 
Designing plans to provide richer support for employees and their dependents 
Expanding coverage (e.g., increase the number of covered visits) 
Looking for alternative ways to offer coverage via mental health vendors 
Providing employees with mental health stipends 
Offering self-care apps and resources 
Partnering with EAPs to provide services (or expanded services) 
Helping managers to support employees, recognize signs, lead with empathy, and be prepared to share resources 
Note that health plans are making impressive efforts to improve their members' mental health coverage. A recent AHIP article details some of the mental health initiatives health plans are employing to support employers and employees. These include expanding mental health coverage in a variety of ways to support improved health outcomes for employees; providing information to employees on how to identify competent mental health professionals; awarding millions of dollars in grants to schools, universities, nonprofit groups, and mental health charities and even funding programs to help people suffering from substance misuse disorders. 
Making the Culture Connection 
A Bloomberg Law analysis on mental health benefits being a key to employee retention states: 
"To differentiate themselves from the competition in 2023, employers should consider redefining their employee value proposition to demonstrate their commitment to their workers' wellbeing from the start of the employee-employer relationship." 
Transforming a workforce culture is a massive strategic endeavor, but there are steps HR teams can take to show employees that the organization prioritizes workforce mental health. Brokers can suggest a mental health-forward approach to employee benefits. While this would include strengthening the underlying coverage (and related policies) for mental health, as previously discussed, the key here is introducing benefits and programs that specifically address holistic wellbeing – the shinier objects that invite the workforce to experience the culture shift. 
Providing a digital solution for telemental health (clinical) and/or an app that serves up guided meditations, mindfulness programs and stress-release sessions (self-care) 
Introducing an integrated, whole-person wellbeing app that allows employees to access on-demand content across the mid-body spectrum 
Offering a series of mental health topic lunch-and-learns that leverages guest speakers from benefit and solution providers  
Another cultural angle to promote with your clients is the development of an empathetic and mental health-literate leadership team. These efforts are clearly strategized and deployed at the organizational level, they intersect with the work of the HR team at critical points. Getting leaders involved in mental health initiatives (e.g., promoting mental health benefits, sharing resources with teams) is one tactic to suggest, along with encouraging the formation and use of peer-support Employee Resource Groups that may or may not have leadership champions.  
By making mental health support visible – not only accessible and "covered" – to employees, and even incorporating a social component to managing stress and balancing work/life, employers can help the workforce build resilience and goodwill from the inside-out. The cultural value of employees who feel cared-for and supported might be challenging to measure, but nurturing the initiative is the "right thing to do" and your employer clients will appreciate your willingness to help them achieve it.   
Highlight a Connected Benefits Experience 
Beyond providing additional mental health coverage and cultural support, there's a further pressing need for today's employees: to provide a personalized experience that supports each employee's specific needs, including mental health. 
At Benefitfocus, we help our customers deliver on their health and benefits strategies by creating administrative efficiencies, boosting member engagement and identifying opportunities to help each member reduce costs and improve their health outcomes. 
Brokers and consultants, find out what's new at Benefitfocus!