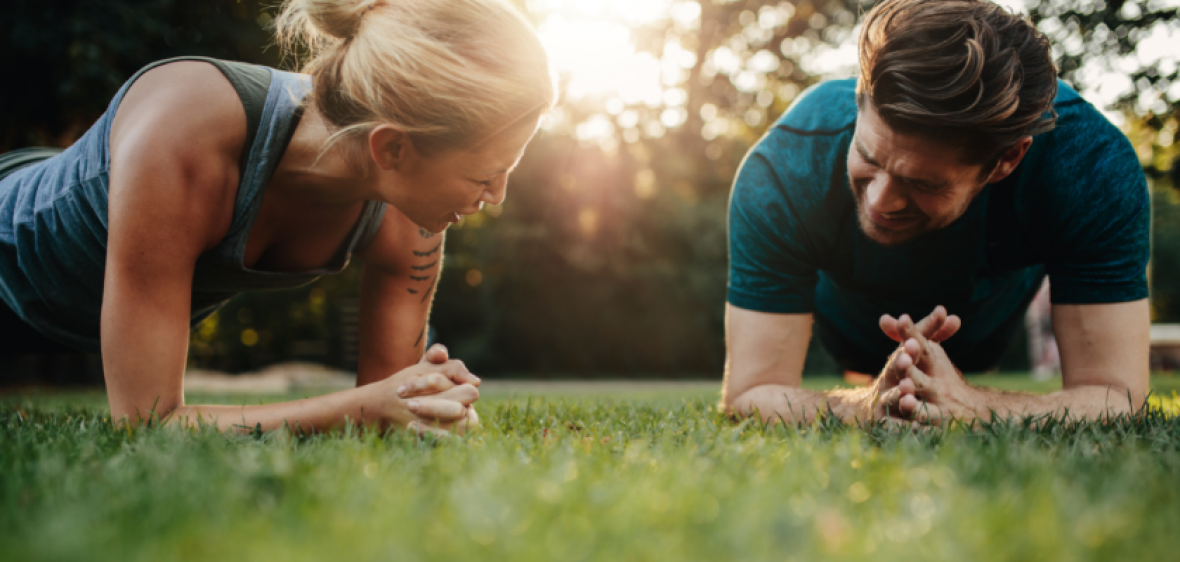 Physical wellbeing took a back seat for many over the past year. That's entirely understandable. There were several things working against us during the COVID-19 shelter-in-place orders.
There was an increase in sedentary behavior. Our daily step count drastically decreased as our fascination with Tiger King skyrocketed from the couch. We saw gyms temporarily close their doors. Many were trying to support local businesses by eating more takeout meals. Plus, there was greater stress and anxiety in general, which can often lead to weight retention or unhealthy eating habits that result in weight gain. According to one study, Americans gained nearly two pounds per month during lockdown.1
In addition to that, many delayed or avoided preventative care. In fact, by June 30, 2020, because of concerns about COVID-19, an estimated 41 percent of U.S. adults had delayed or avoided medical care including urgent or emergency care (12 percent) and routine care (32 percent).2 
As part of your role, benefits leaders are called on to encourage employee wellbeing in all forms. Often though, the emphasis on physical wellbeing happens at the beginning of the year. But the new year doesn't have to be the only time that you engage employees in healthful physical activities.
For many employers, the third quarter serves as the runway to your annual open enrollment period. It's an opportune time to invest in educating and engaging employees in their overall physical health and wellbeing. Plus, right now the world is opening back up, making it all the timelier to help employees put a special focus on this aspect of their total wellbeing.
Here are a few ways HR and benefits professionals can engage employees in their physical health and wellbeing.
Encourage Employees to Schedule Preventive Care
Preventive care has always been one of the best possible solutions for employers and employees to help minimize costs and ensure strong health outcomes for individuals.
Since many put off going to the doctor, it's important to schedule those visits now. Especially for those individuals with a chronic disease, getting to a state of non-compliant management or delaying visits any further could have serious repercussions. Take time to encourage employees to make preventive care a priority and help them understand exactly what's covered.
At the same time, there have been multiple reports around the potential for a surge in health claims. So, while you're encouraging preventive care, it's also important to educate employees around services that provide a second opinion, virtual solutions for therapies or other services that can help avoid costly procedures.
Foster Physical Health and Wellbeing Literacy
As with any benefit, employees need help understanding the options they have available to help them protect and improve their health. Strategically designing your benefits program and communications can go a long way in helping employees flourish into smart health care consumers.
Consider new or different ways to reach your employees like:
Feature voluntary benefits that can protect the different aspects of wellbeing, such as fitness platforms like Wellbeats and supplemental coverages like critical illness, accident, and hospital indemnity.
Host health and wellness challenges that incentivize employees to utilize their benefits and explore your company's benefits portal through activities like virtual scavenger hunts and trivia games.
Launch an internal podcast series to provide a creative way for employees to learn more about each benefit offering and hear success stories from their colleagues.
You can also communicate by leveraging national awareness months. For example, August is National Immunization Awareness Month, which is the perfect opportunity to encourage employees to start taking the steps to protect their health in the upcoming flu season. Offering an incentive and reminding employees that flu shots are covered under your medical plans can help drive your health care consumers to take advantage and protect their families.
Engage Healthy Eating & Exercise Habits
Of course, solid components of physical health are engaging in healthy eating and exercise habits. So, you'd be remiss to not engage employees around these two areas.
Do you offer incentives or reimbursements towards gym memberships? If so, remind employees they have access to it. If not, consider pulling together a quick list of local facilities. If you have a large enough employee base, some may even offer discounts specifically for your organization.
Pre-COVID, when most employees were working in the office, some employers set up walking groups or in-office classes. While many are still determining what "work" looks like for their company, you can still encourage physical activity. This might look like holding a virtual daily step challenge or asking employees to take the lead in setting up outdoor walking groups in a local cluster.
When it comes to healthy eating, there are a growing number of resources to help individuals on their path. Whether it's connecting employees to a local nutrition center, offering incentives for local or national meal service kits, including healthy recipes in your monthly benefits newsletter, or holding a virtual Q&A with a local nutritionist, there are infinite options to promote eating nutrient-rich, healthful foods to sustain individuals and help them reach their goals.
Engaging Employees Beyond Open Enrollment
Regardless of the method you choose to engage employees in their wellbeing, timing is important as well. Specifically, consistent and targeted year-round communication is key.
Right now, it may be the perfect time to engage individuals in thinking about their physical health and wellbeing, but what about during the rest of the year?
In our latest guide, we discuss how to put a solid benefits communication and engagement infrastructure in place to build better health care consumers. In it, you'll find a blueprint for inspiring employees to be resilient and fully engaged in their total wellbeing, including quarterly campaign ideas around the four pillars of total wellbeing and monthly communications ideas.
Get your copy of the Blueprint for Building Resilient Health Care Consumers and get on the path of cultivating a resilient workforce in our new world of work.