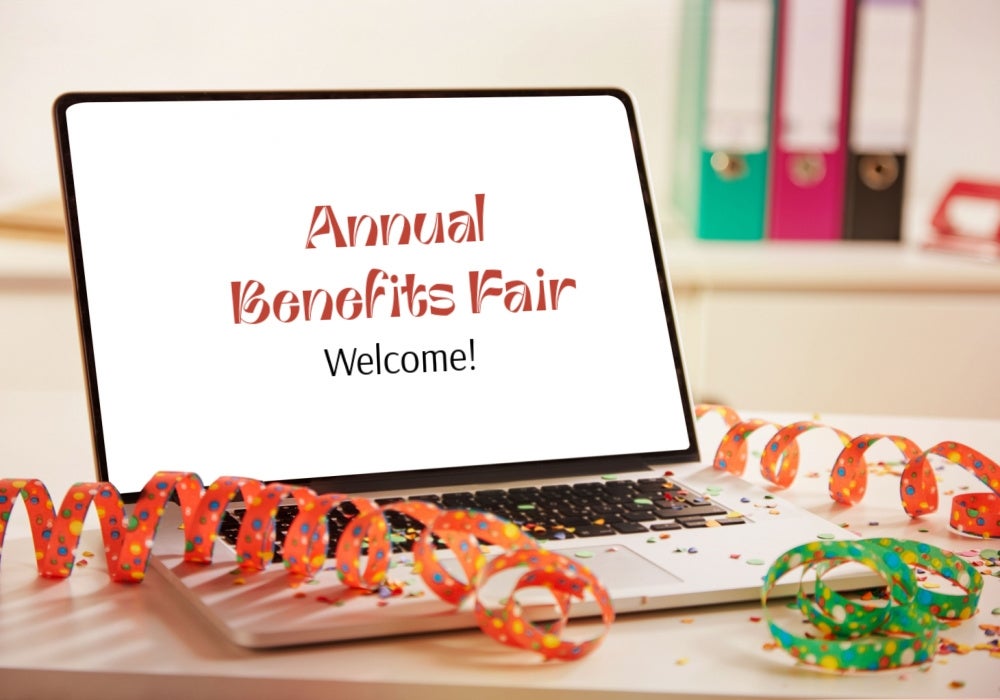 A benefits fair, virtual or in-person, can be your greatest opportunity to engage and educate your employees on their benefits. It's a fun way for you to get employees curious and thinking about their total wellbeing — especially those who may not be as engaged outside of open enrollment season. Make the most of your next benefits fair with these pro tips. 
1. Solicit feedback.  
Get direct feedback from your employees both before and after your benefits fair. By launching a quick survey, you can understand what they'd like to get out of the event, the types of vendors they'd like to see and additional ways you could make it more helpful to them. Post-event, you can ask participants for feedback directly through email, focus groups or using another survey.  
Bonus Tip: Offer an incentive for completing the surveys such as being entered into a drawing for a prize.  
2. Get your timing and logistics right.  
Proper planning is key when it comes to events. Choose a date that won't compete with other important meetings and try to avoid Mondays and Fridays (and holidays, of course) when employees may be taking long weekends. Finally, schedule your benefits fair either right before or towards the beginning of your open enrollment period so employees have ample time to ask questions answered and consider all their options.  
When it comes to logistics, it's important to ask questions like, "What's my budget? Are we holding it in person, virtual or a hybrid of both? If in person, everything from floor plan to traffic flow and vendor information will help you determine setup needs. If virtual or a hybrid, there are technical aspects to consider.  
Don't miss this Warm Up for OE Employee Benefits Enrollment & Engagement Playbook!
3. Build your team.
Benefit professionals don't have to operate in a silo. Ask for help, especially for an event like a benefits fair. It's the perfect opportunity to pull together a planning committee to assign specific tasks and help make sure the event is seamless and a positive experience for everyone.  
Bonus Tip: Vendors make great additions to your benefits fair team. (See the next tip!) 
4. Diversify your vendors.
Make sure you have representatives from all the vendors across your benefits program. This helps draw in a wide range of employees who may be interested in different benefit options. With a virtual or hybrid benefits fair, vendors that want to participate in online sessions can share valuable information on their products. If the vendor will allow it, be sure to record these sessions so employees can access on-demand if they miss the live session or want a quick refresh. 
5. Incorporate activities like health screenings.
In-person benefit fairs are the perfect opportunity to offer health screenings as an option for employees. Consider incorporating onsite skin cancer checks and/or glucose/cholesterol blood tests as well as flu shots – depending on the time of year.  
Bonus Tip: Screenings can take extra time, so allow participants to preregister for a specific time slot and send them a personalized reminder message the day before your event.  
6. Brand your benefits fair and communicate.  
Bring your benefits fair to life with creative branding. A recognizable benefits brand can go a long way to help make messages more attractive, engaging and even actionable.  
Then, broadcast your event through a variety of channels! Communication, early and often, is key to helping employees feel informed and valued. Plus, the purpose of a benefits fair is to get your employees engaged and provide multiple opportunities for benefits education whether in-person or virtually. Using the right channels and frequency of communication can help you drive the greatest attendance and participation. Here are The Top 5 Ways to Make Your OE Communications More Clickable.
Check out our 5 Steps to Building a Powerful Benefits Brand for Open Enrollment infographic!
7. Offer giveaways to draw a crowd.
Some employees need a nudge to motivate them to learn about their benefits. One way to do that is to offer giveaways. Vendors often incorporate fun items and freebies, but you can add to the incentive with items like cookbooks, yoga mats and gift cards for local or online wellness stores. Another option is to add a grand prize such as round-trip airline tickets, which can often be purchased using corporate credit card points. 
Related Items