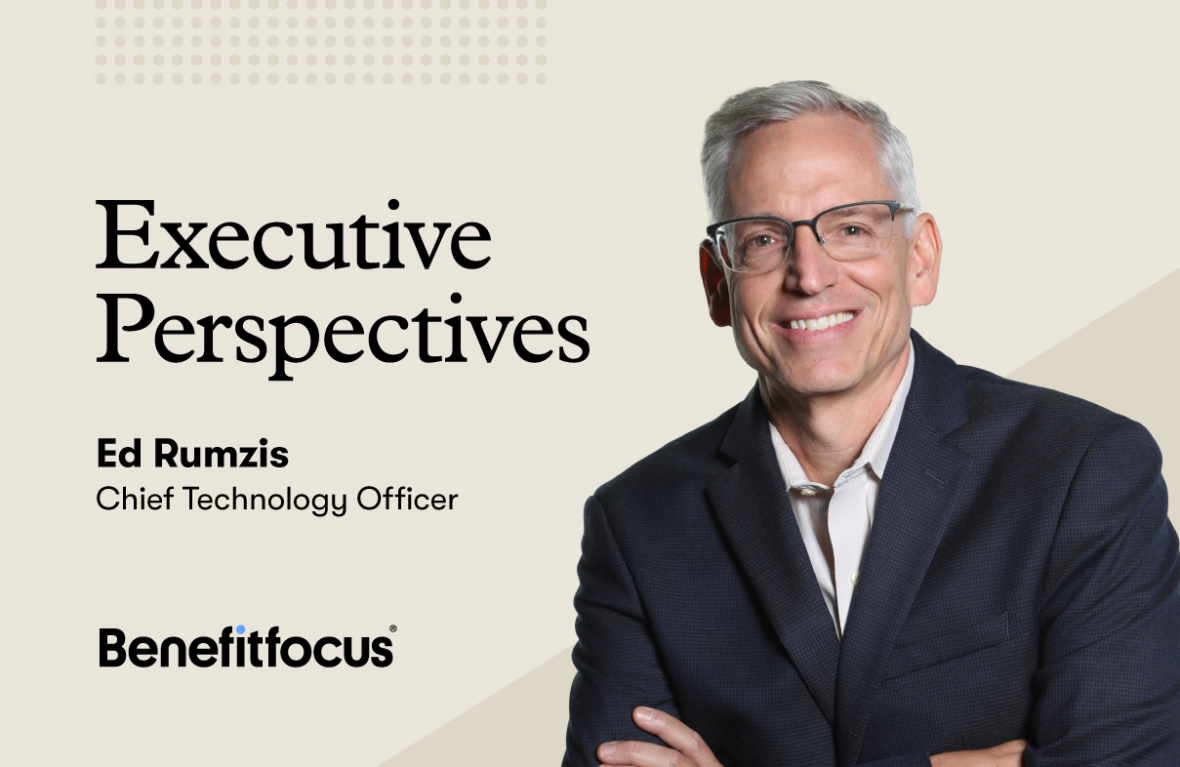 Welcome back to Benefitfocus' Executive Perspectives, a new interview series that features insights from thought leaders about what's impacting the industry, what's most important to today's employers, employees and health plans and what's on the horizon. In this edition, Ed Rumzis, Chief Technology Officer, Benefitfocus, explores a "back to the future" solution for tackling today's biggest benefits administration industry tech trend.  
Q: What do you think is the biggest macro trend impacting the benefits industry today? 
A: The industry swings like a pendulum, and we are seeing, once again, huge changes in benefits administration that are driving new opportunities. What is old is new again, with some nuance: the industry is in a foot race towards creating an engaging one-stop benefits solution – and all roads are leading us (back) to an integrated health-wealth experience. 
It's helpful to take a quick walk down memory lane to see the cyclical nature of change in action and understand how we're coming "back to the future." In the 1980s, the industry was made up of three independent benefit service bureaus: Defined Contribution, Defined Benefits and Health and Welfare. Back then, the focus was on the administration of paper forms and back-room data processing. There was almost no direct customer interaction. Files and paper came in; files and paper went out. It was a business centered on data. 
In the 1990s, the industry underwent massive change and growth with the entrance of a fully integrated benefits outsourcing offering which included both front- and back-room services across all benefits. This total benefits solution became the de facto standard in the large market and created the first pendulum shift. By the early 2000's, post dot-com bubble burst, new opportunities emerged in the Health Plan space and the Small/Midsize employer market. 
By 2010, these new innovative offerings started winning in all markets, fueling the pendulum to swing back to  separate single-service (best-in-class) providers. This greater flexibility and better pricing coupled with digital innovations disrupted the benefits industry again. Over the last 5-10 years, as health care costs continued to spiral out of control, VC money poured into digitally native SaaS health offerings, all promising to bend the health care cost curve. These tools are individually impactful, but often miss targeted outcomes due to lack of usage due to user confusion – too many options leading to confusion, fatigue, and disengagement. Employers, health plans and individual consumers are all struggling to connect the dots.  
This is where we sit today, with a new opportunity for ben admin providers to swing the pendulum back to a fully integrated world – but this time, with expectations of fully personalized and engaging experiences across the rapidly expanding digital ecosystem. It requires next-level technology to deliver on these expectations at scale. This work requires a back-to-the-future approach, returning to the industry's roots of centering everything on data. 
Q: What challenge does this pose, from a technological point of view? 
A: Creating a simple, consistent, and engaging customer experience across a distributed network of independent digital solutions is extremely complicated. Data is copied and siloed within each node (aka application) across the network. Adding to the complexity, each data silo uses its own "data language" (i.e., schema or ontology), resulting in a digital Tower of Babel. Trusty (but brittle and expensive) batch ETL processes are still hard at work attempting to normalize these local variances in a point-to-point (sender/receiver) manner. The solution is struggling to keep up with the explosion of SaaS nodes on the network. Additionally, securing this data sprawl with tightly managed access controls is virtually impossible. And, lastly, and somewhat paradoxically, the rapid growth of incredibly powerful and targeted health and wealth cloud solutions is promising but falling short of expectations. The burden of stitching these point solutions into a cohesive journey is on the customer, leaving them both confused and stressed. 
Einstein famously once said "the definition of genius is taking the complex and making it simple!" The good news is that both complexity and simplicity in this use case are driven by data. Data is the epicenter, it drives personalization, augmented and artificial intelligence (AI) and engagement. The key to simplification in this "any-to-any" network of cloud solutions is interoperability across the volume, variety, and velocity of information exchange across the entire Health and Wealth ecosystem. 
Q: Where's the opportunity for technological innovation and progress? 
A: A traditional solution to this data spread problem, ironically, is to create yet another copy of this data. This time, the data is "normalized" into a standard format and strictly governed (typically with something like Master Data Management, or MDM). There are pros and cons to this approach, but speed and agility aren't among them. Over the last 7 years, the data management field rapidly moved through many architectural solutions, from a "big data" (i.e., Hadoop), to cloud hosted data warehouses, to data lake, to data lake house, and most recently to data mesh and data fabric.    
The good news is that this problem is well understood by the tech industry and is currently well-funded, with lots of VC money being thrown at this challenge. From these investments, several new solutions have emerged across "the modern data stack". One such innovation is a paradigm shift that flips traditional application architectures on its head by transitioning off of siloed application databases and moving towards domains of interoperable data products serving as the source of truth for the business.   
These new data-centered solutions resolve the most critical things mentioned above, including reducing the copies of the data (in some implementations, even move to a ZERO copy model), being change tolerant across the network (with "active meta data" defining the attributes, nodes, relationships, and access rules across the network), removing slow/brittle point-to-point connections (by moving to streaming data changes across the network of data products), and enabling easy discovery and secured interoperability of data (via open linked data and more).  
In short, these powerful innovative technologies centralize and control an organization's knowledge base while also modernizing the exchange of information across the network. This provides better control of data spread and allows organizations to take advantage of their data for better decision-making – and this will help create meaningful data experiences for all players in the ecosystem.