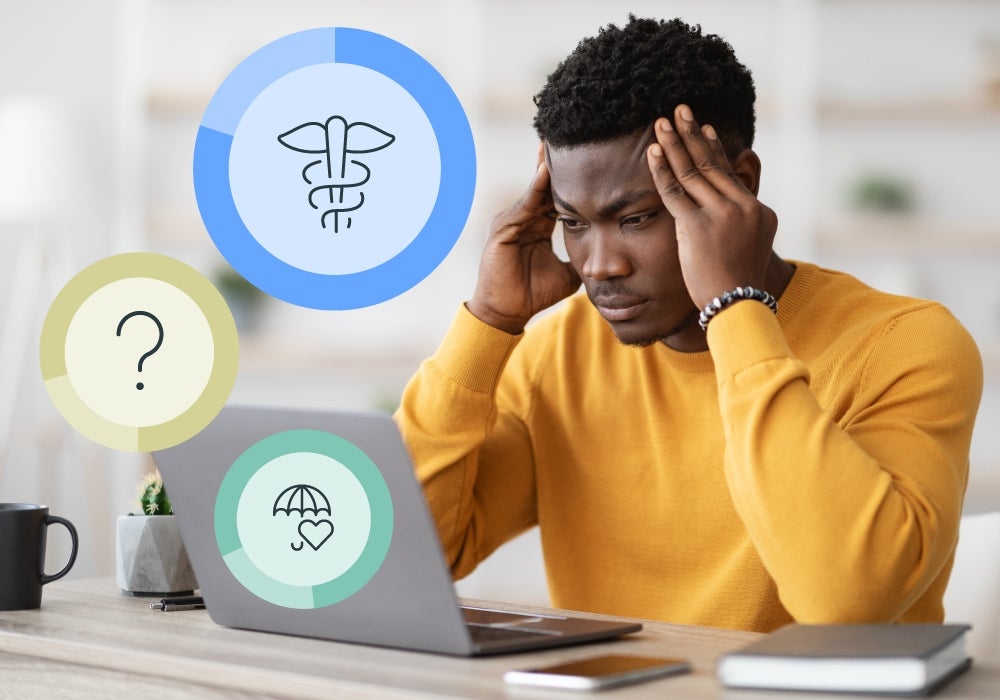 For a typical U.S. adult, choosing health benefits is among the most significant — and potentially among the most costly — decisions they'll make across their working lifetime. 
For better or worse, decisions have an impact on two of the most important life areas: current and long-term health and financial wellness. 
Despite this, the tools employers provide to support these decisions are often not fit for purpose. In many cases, they lead employees to make suboptimal decisions that can have a drastic long-term impact on employees' wellbeing. 
This article will examine why decision support is so important, the top issues standing in the way and how employers can support employees to make better decisions based on their unique needs. 
A Disjointed Approach to Workplace Benefits and Savings 
Health and financial wellness benefits usually aren't considered holistically. Quite the opposite, in fact. For the most part, benefits are thought about, managed, paid for and selected in silos, as though they weren't associated at all. 
In 37 states, per The Commonwealth Fund's 2022 analysis, health insurance premiums and deductibles account for more than 10 percent of median income, placing health benefits among the largest single monthly expenses for most employees. There should be no doubt that choosing the optimal health benefits can have a meaningful impact on financial outcomes. The same can be said of the reverse — health has an undeniable impact on earning potential and long-term financial success. 
Despite this, most employees don't currently have access to helpful decision support tools that consider health and savings holistically. This can lead them to enroll in the wrong health plans for their needs, which can negatively impact their long-term health and financial wellness. Generally, what's good for employees is also good for employers. Benefits are a differentiator — to help attract and retain top talent, employers may wish to consider offering a strong benefit experience that supports employees from selection and decision support through to care consumption and renewal. 
Put simply, health and financial wellness benefits are inexorably linked. Employers must support employees to make choices confidently, knowing they are getting the best options for their needs — but today, this simply isn't happening. 
The "Big 4" Problems with Benefits Decision Support 
The issue isn't that employers haven't adopted decision support tools — some employers have had tools in place for years at this point. However, despite the presence of seemingly helpful tools, the current decision support experience for employees has three major shortcomings: 
1. Lack of integration 
As we've already alluded to, health and financial benefits are rarely considered holistically. Even with the benefit of decision support tools, employees aren't given guidance based on an understanding of their broader health and financial circumstances. As a result, benefits decisions are made without proper context, leading to selections that don't accurately match an individual's needs. 
2. Lack of sophistication 
Some decision support tools are simplistic and don't integrate with the broader benefits selection process. Often, employees are given selection guidance through one system (either online or offline), but most go elsewhere to choose and enroll in their benefits. 
Clearly, this is not an ideal experience. In some cases, decision support tools don't reflect the availability of health and financial wellness benefits. As a result, any guidance given is unlikely to be a true reflection of an employee's ideal benefit profile. 
3. Lack of personalization 
Decision support tools typically use a series of "If statements" to recommend benefits — the system uses overly simplified "if this, then that" logic rather than applying real data science to make recommendations based on an individual's broader circumstances and needs. 
This has the effect of grouping employees by certain characteristics (e.g., parents, low/mid/high earners, chronic illness sufferers, etc.) and applying a generic recommendation rather than treating each employee as the individual they are. The result of this can be for some employees to be given suboptimal advice, resulting in worse long-term health and financial wellness outcomes. 
4. Lack of objectivity 
Some decision support tools allow for "stacking the deck," essentially forcing their tools to make recommendations that are in the best interest of the employer but not necessarily the best interest of the member/employee. Guiding employees to a choice that is influenced by the employer isn't truly objective and could lead to a sub-optimal outcome for the employee. 
Employees Need (and Want) a Stronger Decision Support Experience 
The answer is simple. Employees need decision support that helps them understand the connection between their health and finances with the goal of ultimately experiencing better outcomes based on their specific needs.  
And they know it. 
Today, a high proportion of employees know they may not be making the best benefits decisions for their needs — and they are increasingly aware of the impact this could be having on their long-term health and financial wellness. When you consider that 72 percent of employees spent less than an hour deciding on their health plan during open enrollment, it's evident that there's a disconnect that employers can help address. 
Surveys of U.S. adults conducted by Voya Financial in 2022 and 2023 consistently show a desire for stronger decision support across health and voluntary benefits. Seventy-two (72) percent say receiving guidance on how to optimize retirement savings and workplace benefits is extremely important or important to them.1 
Meanwhile, when it comes to employed U.S. adults, the numbers show: 
70 percent are strongly or somewhat interested in receiving support to maximize their workplace benefits dollars across their retirement savings, health savings accounts (HSAs), healthcare insurance, and voluntary benefits1. 

65 percent strongly or somewhat agree they are comfortable sharing personal data with their workplace benefits and savings provider to have a personalized enrollment experience1. 

80 percent strongly or somewhat agree personalized employee benefits offerings would make them more likely to stay with their current employer2.
These numbers — which are reflected across the surveys presented in this article — provide insight into the priorities of US employees. Likely prompted by improved digital experiences in other areas of their lives, employees are ready and willing to share their data in exchange for a more personalized benefits experience that enables better long-term decisions. 
Make no mistake: stronger decision support does result in more optimal employee decisions. Employees using a decision support solution offered by Voya resulted in nearly three times more employees switching from PPO plans to HDHPs, and employees were 35 percent more likely to elect supplemental health insurance benefits3. 
Arm Your Workforce with Personalized Decision Support 
Our fully integrated decision support solution helps employees make the most of their paycheck, use their benefits more fully, and find the ideal blend of health and financial benefits for their current and long-term needs. At the same time, we help employers get the best from their employees by boosting engagement with the goal of improving health and financial outcomes. 
Our decision support solution: 
Uses real data science to understand the individual and offers guidance based on their specific circumstances and needs 

Makes it easy for employees to make optimal decisions about their benefits through a connected experience across health and voluntary benefits and savings plans 
Encourages better health and financial outcomes through powerful insights and a personalized experience that engages people year-round 
To see how our data science-backed decision support experience can help your employees make the ideal health and financial benefits decisions for their needs, contact our sales team to arrange your FREE demo today. 
1 Source: Based on the results of a Voya Financial Consumer Insights & Research survey conducted June 17-21, 2022, on the Ipsos eNation omnibus online platform among 1,005 adults aged 18+ in the U.S., featuring 495 Americans working full-time or part-time. 
2 Source: Based on the results of a Voya Financial Consumer Insights & Research survey conducted March 9-10, 2023, on the Ipsos eNation omnibus online platform among 1,005 adults aged 18+ in the U.S., featuring 464 Americans working full-time or part-time. 
3 Results from one pilot customer (Voya Financial) with a total of 6,410 employees eligible for the tool. 944 eligible employees used the tool (myVoyage app and Personalized Enrollment Guidance). 
Benefitfocus.com, Inc. and its affiliated companies (collectively, "Benefitfocus") is making available to you the Personalized Decision Support tool offered by SAVVI Financial LLC ("SAVVI"). Benefitfocus is a Voya Financial business. Voya has a financial ownership interest in and business relationships with SAVVI that create an incentive for Voya to promote SAVVI's products and services and for SAVVI to promote Voya's products and services. Please access and read SAVVI's Firm Brochure, which is available at this link:https://www.savvifi.com/legal/form-adv. It contains general information about SAVVI's business, including conflicts of interest. 
CN2896545_05152023