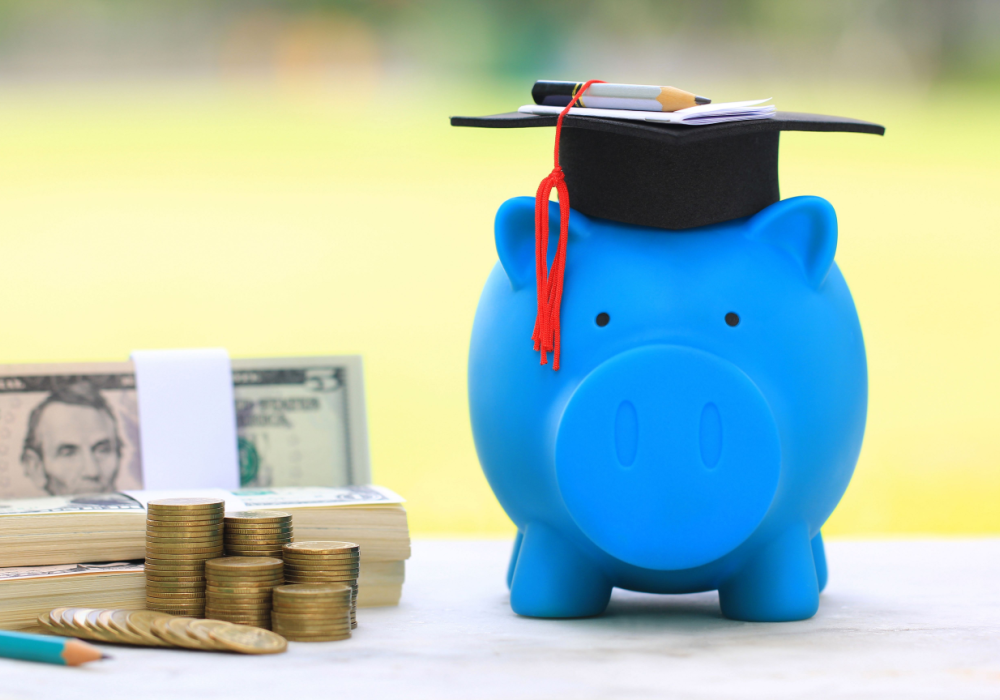 Debt. Budgets. Investing. These topics are downright unpleasant for many of your employees. One survey found that 44 percent of Americans see personal finance as the most challenging topic to discuss with others, more so than subjects like death, politics and religion. Money talk might be cringe-worthy and even taboo, but it really shouldn't be.
Your employees' financial futures depend on their financial literacy, defined by Voya Financial as "the knowledge and application of various financial skills [that] is essential to your whole health, wealth and wellbeing so you can provide for yourself now and in the future."
Employers play a vital role in helping people protect their health and wealth – and myriad benefits programs are designed to help employees save, invest and maximize their hard-earned dollars. Two-thirds (66 percent) of employees agree that their employer has a responsibility to make sure employees are financially secure and well.
The bottom line? It's imperative for HR teams to connect-the-dots for employees and help them become more comfortable and confident in their understanding of fundamental personal finance concepts. Good thing April is Financial Literacy Month!
Use these campaign recommendations to boost your employees' financial IQ!
Objectives
You may want your financial literacy-building activities to bolster employees' awareness of specific benefit products, programs or resources that support their personal financial goals. For example:
Connect the dots between your company's health care and wealth programs to get employees' workplace benefits and savings in sync.
Generate interest in your company's HSA-eligible consumer-driven health plan, life insurance and retirement savings programs ahead of open enrollment season.
Increase utilization of employer-sponsored financial wellness coaching, college savings and short-term loans programs.
Host a Financial Wellness Fair!
Turning the journey toward financial literacy into an event is one way to make the subject matter more fun for employees – or at least more palatable! Plus, making the effort to deliver content they need (and value) demonstrates your commitment to their financial wellbeing and helps take some of the "taboo" off money talk. And, hopefully, it will inspire action! Here are ideas to make sure your event is a success: 
Make it Virtual  
Since you know your people aren't necessarily comfortable talking about financial matters in the first place – let alone in a public forum – consider providing education and information in a virtual setting where they feel more comfortable engaging with the content and session leaders.  
Offer Something for Everyone
Everyone can boost their financial IQ. Even the most financially savvy can brush up on the basics or learn something new about optimizing employee benefits. Your program agenda can include vendor presentations, benefit walk-throughs, more formal educational or how-to sessions, and even hands-on workshops.
Don't Stop Here
Expanding financial literacy is truly a lifelong endeavor, considering the many changes and stages people experience over time. Your financial wellness fair is but one day in the year, so repurpose and develop more content, keep educating employees and their families and look for opportunities to leverage your benefits partners. 
Use this event email copy to get you started...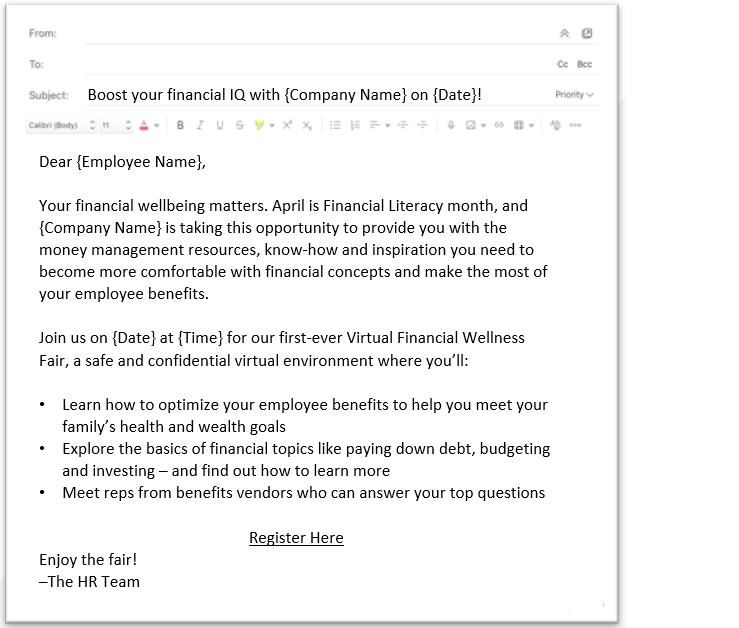 Financial Literacy Resources
Financial Literacy Month Resources (National Financial Educators Council)
Financial Wellness Resources for Employers (Consumer Financial Protection Bureau)
The Ultimate Guide to Financial Literacy (Investopedia)
FDIC Money Smart (Federal Deposit Insurance Corporation)
Financial Literacy Knowledge Center (Voya Financial)
This Campaign Helper is featured in the Q22023 Employee Benefit Enrollment & Engagement playbook, where more insights are waiting for you. COMING SOON!