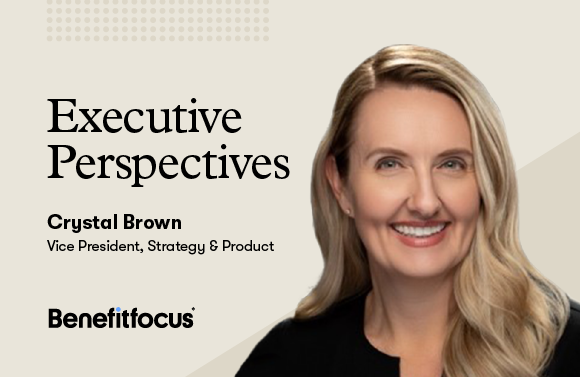 Welcome back to Benefitfocus' Executive Perspectives, an interview series that features insights from thought leaders about what's impacting the industry, what's most important to today's employers, employees, health plans and members, and what's on the horizon. In this edition, Crystal Brown, Vice President of Strategy and Product, Benefitfocus, offers her take on the most significant challenges and opportunities facing today's health plan organizations.  
Q: What are the macro trends impacting the benefits industry today for health plans?  
A: Aside from customer demand for innovation, several external forces are impacting health plans' business models and future. Regulations at state and federal levels continue to increase, driving complexity. Provider and hospital systems continue to consolidate, impacting the cost of care and available choices in the market. And government funded segments continue to grow, pulling membership from traditional fully insured employer-based insurance. 
The individual market segment, in particular, remains highly price sensitive, so as markets continue to find creative ways to temper premium trends while innovating on the overall customer experience, we will continue to see growth in this market. More attractive premiums for individual products and supporting regulations are also tipping the incentives for groups to offer products like Individual Consumer Health Reimbursement Arrangement plans (ICHRAs).   
Q: Internal build strategies are unsustainable. In fact, 23 percent of health plan leaders said that their technology infrastructure systems are not able to keep pace. What are the primary factors driving this trend?  
A: The technology infrastructure for many health plans is a combination of decades-old legacy systems running core back-office operations and a host of vendor or home-grown platforms providing many of the consumer facing experiences. Legacy systems can be relatively cost effective until they are not.  
Look at what recently happened with Southwest Airlines: their dependency on legacy systems, while likely low-cost to administer, reached a breaking point and financially impacted them far greater than if they'd proactively funded an upgrade. Technology leaders at health plans are challenged with building compelling business cases that not only factor in the one-time costs and ongoing costs, but also the financial risks of not migrating to modern, scalable solutions.  
Q: What are the biggest challenges health plans face with regards to taking their data and turning it into meaningful, actionable insights? 
A: There are two prevalent undercurrents here: data governance and technical infrastructure. Clarity on how to apply data governance that is both adherent to guardrails coming from multiple constituents (e.g., employer contracts, federal and state regulations, etc.) while also being able to share meaningful population health insights with providers and consumers to inspire action. Additionally, many health plans have complex data infrastructures, further complicating efforts. These population health insights are often siloed across multiple core processing systems (e.g., claims, enrollment, care management, etc.).  
When it comes to data and the insights they provide, just about every plan I meet with is in the middle of a large, multi-year data infrastructure initiative. These programs often include scaling analytics teams and building out data models to detect health insights earlier. Once they have the insights, they then face the challenge of effective customer engagement. Getting customers to take the desired action can often be the most difficult step and, thankfully, there is no shortage of efforts across the industry to overcome these hurdles. 
As a result, health plans are embarking on deeper partnerships with health care systems in their networks while also aligning with some really innovative care partners. It's through real-time data sharing, elimination of administrative friction and integrating the patient journey that these partnerships are able to deliver meaningful industry change for consumers. 
Q: Speaking of partners, as competition continues to grow and health plans are increasingly challenged to gain access to new customers, winning broker mind share has never been more critical. What are the keys to engaging brokers for success? 
A: Here's one aspect of the ecosystem that has remained constant: brokers want simplicity in how they quote, enroll and administer plans for their customers. They want easy-to-explain plan options to present to their clients and seamless activation and administration. That's why the health plans winning the hearts and minds of their brokers are intensely focused on the broker experience (e.g., tools, support, process efficiencies, etc.) while ensuring they have aligned incentives.  
Q: What do you think about the trend of health plans making the shift to becoming wellness-focused organizations?   
A: It is widely known that adults with chronic conditions are the primary users of health care and account for two-thirds of total health care spending. As health plans look to slow the rising cost of health care while improving the overall customer experience, it's logical they lean-in further with wellness.  
I like to refer to the chapter we are in now as the "great bake off" to see which offerings can deliver on the promises made during the sales cycle. Many of these wellness partners are having material impacts on the cost and quality of life for consumers living with chronic conditions. We are a few years into this wellness focused journey and more health plans are identifying the partners delivering the outcomes and choosing to proceed with acquisitions or building out deeper integrations for a more seamless customer experience.  
Additionally, you see others taking it one step further with a full branding refresh sending a loud and clear message to the market they are a health solutions company. 
Q: How do you see health plans creating market differentiation by providing their membership with better solutions to improve health and financial outcomes? 
A: Rewind the tape 15 years, when consumers were largely in employer-sponsored, broad network, low co-pay medical plans. They weren't juggling high deductibles, surprise medical bills or escalating premiums – all things they are simultaneously facing. So fast forward to today, medical bills are now the number one cause for bankruptcy.  
Health plans have an opportunity to support consumers with data-driven and predictive guidance when selecting a plan. Additionally, they can provide clear care navigation experiences that deliver cost estimates, quality measures and ease of access to care. A consumer's financial, physical and emotional wellbeing have never been more entwined and riper for innovation, so as a consumer and an executive in the space, I personally couldn't be more excited for what the future has in store!