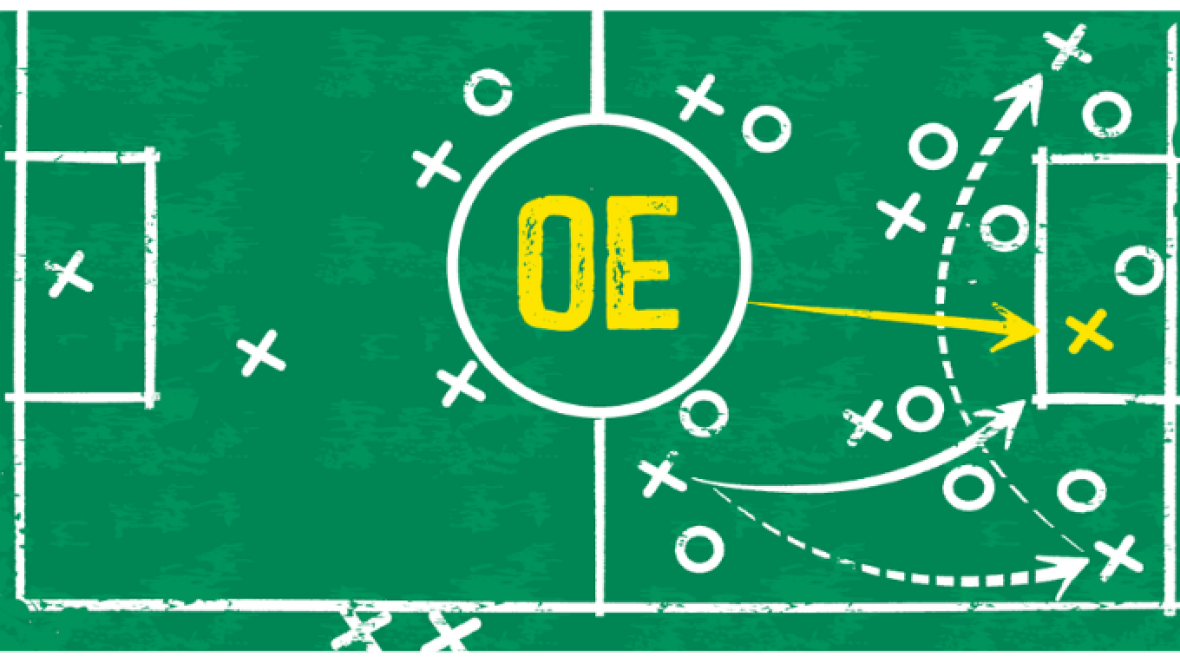 When you make an investment, you want to realize the best return on that investment. The same goes with employee benefits. Benefits are a significant investment in your workforce and, as such, you want to make sure that employees get the most value from those benefits.
A strong open enrollment communication plan is a huge part of making that happen. Targeting the right employees with the right message helps to bridge the gap between the benefits offering and employees' understanding of the benefits offering. But for the right message to truly resonate with the right employees, they have to be conveyed the right way—i.e., you've got to determine the most effective tactics for your open enrollment communication plan.
So just how do you know which tactics to use?
In marketing, we have several metrics we use to gauge how successful our tactics are, and just like anything else, we want to get the most bang for our buck. So, we start with an Impact vs. Effort Matrix, an exercise that helps compare tactics based on the level of effort or cost involved versus their impact or effectiveness.
As you plan for open enrollment, use the following steps as a guide to determine how to get your message across with the most effective tactics:
Step 1: Assemble your team
Whenever you undertake a new project or initiative, it requires collective brainpower and buy-in from your team. It's also helpful to get the support from a cross-functional group, such as your internal communications team, colleagues that work in other areas of HR and even senior leadership.
A well-executed open enrollment communication plan starts with bringing together the right group of people to align with and build out that plan.   
Step 2: Brainstorm a list of potential tactics
If your overall open enrollment communication strategy is the "how," think of tactics as the "what." What will you do?
Basically, your tactics are the communication channels you'll use to reach your various audiences. For each audience within your workforce, there may be several appropriate communication channels. By making your message available in multiple formats, you can engage workers the way they want to be engaged.
Here are some typical communication channels to consider:  
Email
Video
Text messaging
Print materials (i.e., posters and flyers)
Social media
Web pages
Benefit fairs and other events
Webinars or teleconference
Put aside any preconceived judgments about which communication channels work and which don't for your employees. This is the time to consider all possibilities.
Step 3: Construct your Impact vs. Effort Matrix
Once you've done the preliminary work, it's now time to construct your own Impact vs. Effort Matrix to help you evaluate your communication tactics and channels.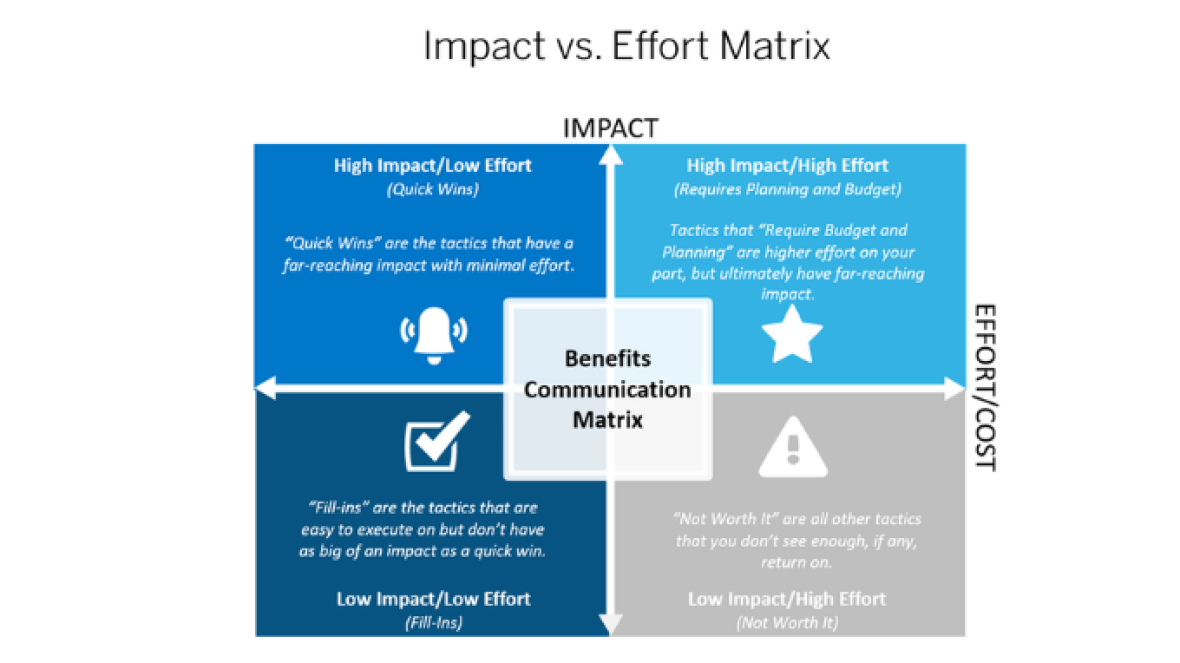 The upper left quadrant are High Impact/Low Effort tactics. These are also known as "Quick Wins," tactics that have a far-reaching impact with minimal effort. Quick wins should be prioritized and maximized.
The lower left quadrant are Low Impact/Low Effort tactics. These are also called "Fill-ins," tactics that are easy to execute on but don't have as big of an impact.
The upper right quadrant are High Impact/High Effort tactics, ones that are higher effort on your part and may require planning and budget, but ultimately have far-reaching impact.
Finally, the lower right quadrant are Low Impact/High Effort tactics. These are "Not Worth It," tactics that you don't see enough, if any, return on. These should be minimized, if done at all.
Step 4: Assess each tactic in relation to your matrix
Now it's time to work with your team and evaluate each tactic you came up with in Step 3. Critically think about the factors involved in executing each tactic and weigh the return on investment. Then decide where it falls on your matrix.
For example, let's say your company works in the manufacturing industry. You have a majority of employees that work in production facilities who don't have ready access to computers. But since they pretty much all have mobile devices, your Quick Win may be sending brief, catchy text messages prompting them to review their benefit options when they get home. For your High Impact/High Effort tactic, you may decide to set up digital displays at the entrance and exit of the manufacturing floor with screens highlighting upcoming open enrollment information or videos from the leadership team explaining any changes to the benefits offering.
Step 5: Consider how your matrix will shift depending on each audience in your workforce
Do you have a lot of employees that are Millennials? Baby boomers? Do you have a large population of remote workers?
The tactics that work for one audience may not be the right fit for another audience. You want to find the best way to reach them with your message and drive the right action. So, for each major audience you can identify within your workforce, build a separate matrix to better reflect their unique communication needs.
Step 6: Focus on the right tactics
Your time is valuable, especially when it comes to open enrollment season. So make the most of your opportunity by focusing on the best solutions for you and your team – specifically, the Quick Wins that are easy to implement but with substantial impact.
Step 7: Evaluate your results
How do you know if the tactics you implemented struck the right chord with your audience?
Evaluation is a must if you want to make sure your message did its job and drove your audience to the right action and understanding. Ultimately, you want your employees to make the best benefit decisions for their needs and to understand how to use their benefits when it comes to protecting their health, wealth and lifestyles. Continue to evaluate and refine your open enrollment communication plan, and you'll be able to do just that.
Ready to drive your employees to the right action this open enrollment? Learn how you can build a complete, integrated communications plan with our free Guide to Open Enrollment Communication Tactics & Timelines.