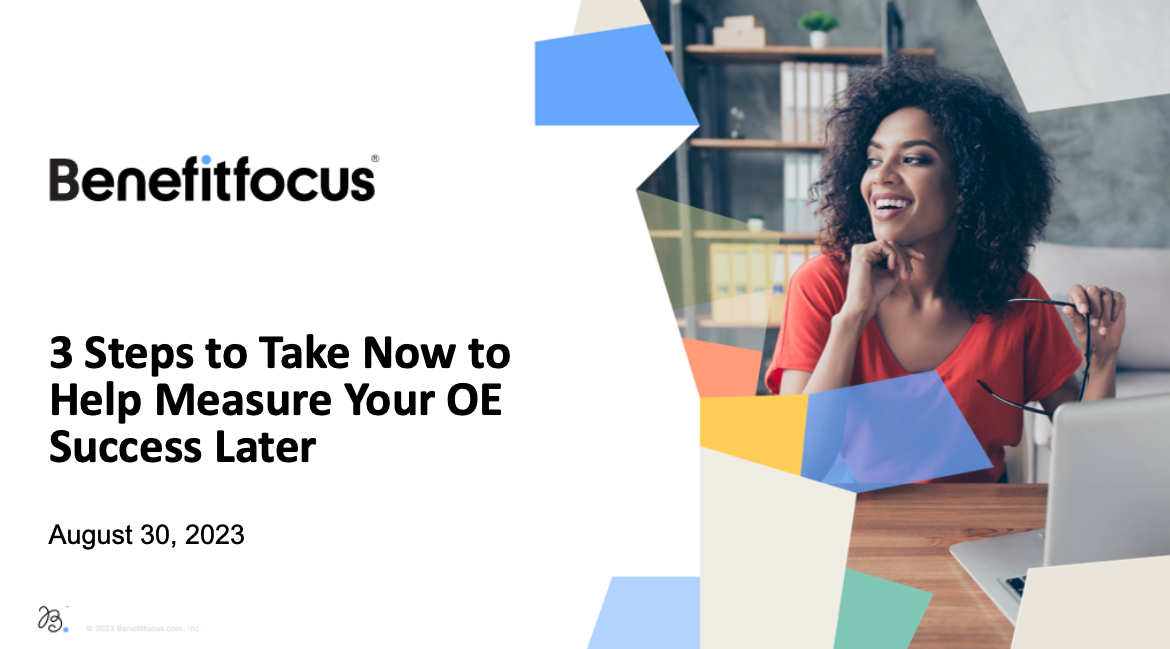 Some of the most successful employers have discovered that by preparing ahead of time, they are able to define goals and metrics that lead to open enrollment success. That's why Benefitfocus recently hosted a webinar, 3 Steps to Take Now to Help Measure Your OE Success Later, featuring a panel of benefits administrators from Panera Bread and QuikTrip, as well as our own Director of Client Success, Ron Tripp.
With open enrollment (OE) around the corner for many, this discussion aimed to help attendees make the most of their pre-OE time by defining and identifying their OE goals, as well as implementing some last-minute tactics to better educate, communicate with and engage employees.
In case you missed the event, here are some highlights from the discussion – and be sure to watch the full session on demand, too!
Define Your Goals
When you've got just a few weeks to go before OE, take a moment to define your goals by getting them on paper and mapping them to specific tactics. Breaking these goals into four focus areas of administration, communications & engagement, enrollment & utilization and employee experience could make it easier to not just set these goals, but determine how to measure your success as well.
Panelist and Benefits Supervisor at QuikTrip, Todd Wunsch, described last year's only goal in one word: survival. "Year one came with the change from paper to online, which can be scary, for us and our employees," Wunsch said. "But now that we've finished our second OE, we were able to identify what did and didn't work and not only were the mistakes reduced greatly, but [so was] the time we spent walking our employees through what to do."
We've created this interactive open enrollment checklist to help ideate and refine your goals for OE. It may even reveal opportunities for improvements you can make before the next enrollment window opens!
Identify Your Success Metrics
Once goals and objectives are set, determining how to measure the success of your actions lies in establishing baselines and giving yourself specific numbers to aim for.
According to panelist and Director of Benefits at Panera Bread, Misi Holmberg, "We don't have a lot of hard target goals that we are shooting for, but we do compare year over year and also [look] back several years to see trends in how many people are enrolling each day, interacting with the system overall, and if they are using computers, tablets, cell phones or the live call center."
Implement Last-Minute Tactics
Identifying and measuring success is great – but what can you really do to make sure that success is imminent? Throughout the presentation, panelists and participants alike shared some of the things they've done during the home stretch in previous years to make OE a success, including:
Sending out a company-wide Outlook calendar invite to remind employees of when OE started and ended.
Making sure that everyone that should be eligible has the ability to get onto the website and make their elections.
Hosting a "Mix-Your-Own Healthy Trail Mix" event during the first week of OE where all of the benefits team members are available to answer questions.
Implementing a "silent period" after the official "close" of OE, where associates can log in and make last-minute enrollments or corrections.
Creating a podcast to highlight certain benefits that are either new or underutilized, and to provide reminders about updating beneficiary information.
Requiring employees to select their benefits as part of an Active enrollment strategy.
Now that you've seen the highlights, get ready to take actionable steps now that will help you measure OE success later and watch the full webinar on demand.