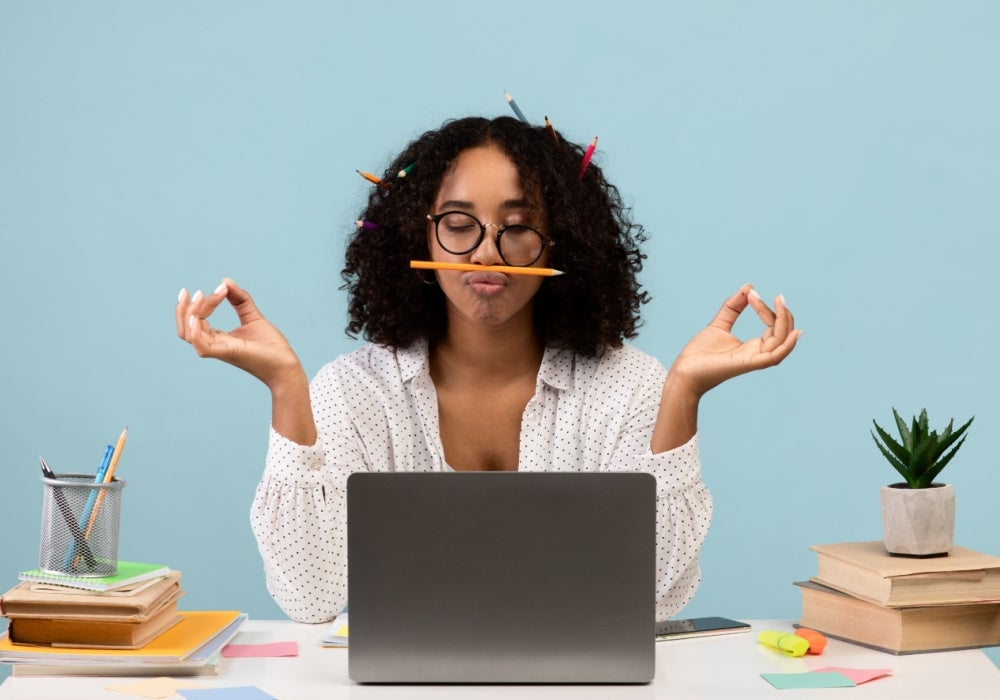 Here's a handy plan to help you run an employee benefits engagement campaign on the topic of stress awareness.
Not all stress is bad. Some can motivate you to perform better. But then there's also the kind, especially chronic or bad stress, that can have a real, harmful impact on your employees' lives. The link between the two has been well researched, showing that "recurrent stress increases one's risk of type 2 diabetes, high blood pressure, and heart diseases. Moreover, depression, anxiety, and other mental disorders like post-traumatic stress disorder (PTSD) may develop if stress gets chronic." 
While stress wreaks havoc on an employee's personal life, it also manifests at work in the form of lower productivity, burnout, conflict, and higher rates of error. In fact, according to the American Psychological Association, 94 percent of workers report feeling stress at work.    
One aspect complicating stress is that what may be stressful to one person may not be stressful to another. What is agreed on is that the causes of stress vary widely from big life events like loss of a loved one, divorce, illness, or financial issues to the accumulation of small triggers over time and, yes, unfortunately jobs are a common source of stress.  
The first half of November holds National Stress Awareness Day as well as International Stress Awareness week, and it makes sense. While the holidays are joyful for many, they can also be stressful. Luckily, HR teams can stress (get it?) the importance of stress management. Use these campaign recommendations to help employees navigate stress. 
Set Your Campaign Objectives 
Stress is common, but managing stress before it takes a toll on health and wellness is vital. Your employee benefits package likely includes many products and resources employees can use to practice stress management and self-care. Use a Stress Awareness campaign to bring awareness to those opportunities. For example: 
Increase downloads of your company's wellbeing app.  
Increase employee engagement with your EAP program and related resources.  
Encourage employees to take advantage of preventative health screenings and annual primary care visits.     
Boost utilization of your gym membership programs or health coaching services or encourage exploration of yoga or meditation. 
Highlight additional benefits like coverage for cognitive behavioral therapy  
Share These Handy Resources with Your Employees  
Try This Communications Plan and Timeline 
Use a week-long campaign to encourage employees to use the resources they have available to manage stress early and often. Consider this timeline of activities:   
Monday 
Send a kick-off email introducing Stress Awareness Week. 
Share a complete list of benefits and resources employees can access for stress management. 
Tuesday 
Pick two benefits and/or resources to highlight with employees via email such as your EAP or gym membership program. 
Give every employee a branded stress ball.
Host a lunch-and-learn led by your leadership team and an outside expert about stress at work, encouraging an open and supportive environment. 
Wednesday 
Host a yoga and meditation class.  
Share a post on your corporate social channel about preventative health screenings and their benefit to catching stress symptoms. 
Thursday 
Send an email encouraging employees to download their wellness app.  
Post a link to benefits portal where employees can explore voluntary benefit offerings that help them lower stress. 
Friday 
Encourage employees to take a mindfulness break and do something like take a walk, follow a guided meditation or another activity to ease their stress. 
Send an email wrapping up the week, including all resources employees can use for stress management.