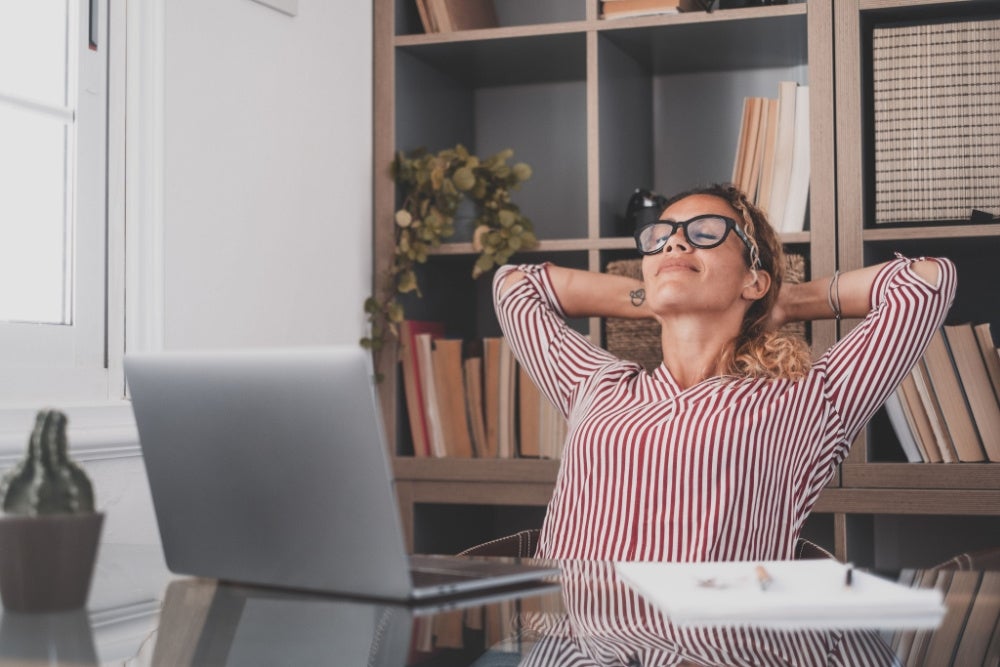 "Open enrollment season is so stressful!" That statement is so cliché, isn't it? Of course, HR's busiest time of year is stressful – and benefits administrators and brokers alike know what to expect: a combination of excitement and anticipation, anxiety and fatigue. When it's all over and the proverbial dust settles, an all-too-common and very unwelcome set of physical, mental and emotional symptoms sink in and tend to stick around, wreaking all sorts of havoc.  
What's the weary HR and benefits practitioner to do? Consider this three-dose prescription for relief. 
First, Acknowledge the Facts and Recognize HR Burnout 
According to a report cited by SHRM, burnout and exhaustion are widespread in HR, with 42 percent of teams struggling under the weight of too many projects and responsibilities. Another report from late 2021 found that in the past six months, 98 percent of HR professionals have felt burned out at work, 88 percent have dreaded work and 78 percent are open to leaving their jobs. 
Sadly, these statistics may resonate with you. But the silver lining is that experiencing exorbitant stress or even burnout presents the opportunity to assess your needs and make necessary changes to your lifestyle and work-life. Change usually isn't easy, but sometimes all it takes is a few tweaks to experience a difference. 
When it comes to taking care of yourself, distinguishing between stress and burnout is critical. Burnout isn't everyday stress. It isn't necessarily OE stress. In fact, it's an occupational phenomenon defined by the World Health Organization (WHO) as a syndrome conceptualized as resulting from chronic workplace stress that has not been successfully managed. It's characterized by three dimensions: 
Feelings of energy depletion or exhaustion; 

Increased mental distance from one's job, or feelings of negativism or cynicism related to one's job; and 
Reduced professional efficacy 
Hopefully your feelings of exhaustion and overwhelm during and after open enrollment season aren't accompanied by increased levels of job cynicism and reduced output. But if they are, it's critical to take action. Note that you don't need to experience all three dimensions of burnout to find relief for your stress and act on what's causing it, effectively getting in front of burnout before it develops.   
Second, Commit to Taking Care of Yourself 
Forget the saying, "Should an emergency situation occur, put your own oxygen mask on before attempting to help those around you." How often does open enrollment put us into a state of emergency? (Plugging last-minute plan changes into the system doesn't count!) When put in perspective, this so-called self-care axiom does little to inspire HR professionals who are literally in the business of taking care of others – of putting others first. It's second nature to "take one for the team" or "burn the candle at both ends" to deliver for your workforce.  
But even if it's at the expense of your well-being? (That's the question you need to answer for yourself!) 
A more effective metaphor is, "You can't pour from an empty cup." Gotcha there! When put this way, it's clear that self-care isn't selfish. A piece in Thrive Global reminds us that "When we put our needs first, it often has a positive effect on the things that really matter to us – our health, our relationships, our resilience, our work." Even the most productive HR superheroes of myth can't pour from an empty cup.  
Here are some dos and don'ts to ensure your cup runneth over, even during OE season: 
DO make healthy choices, most of the time. When we're under stress, it can be so easy to self-medicate with junk food and binge-watching TV, which aren't good long-term solutions. But because less-healthy habits have a way of taking over when we're worn down (OE season, anyone?), we need to set a conscious intention to make stress-busting lifestyle decisions. You've heard it all before: eat a well-balanced, nutritious diet; keep moving with the recommended level of moderate exercise most days of the week; get enough quality sleep each night. When practiced together, they're the basis for feeling your best, body and mind. 

DON'T let a commitment to wellbeing stress you out. A surefire way to create more stress for yourself is to set unrealistic expectations and inevitably fail to meet them. Don't say "no" to every donut or feel like you can't skip a workout to decompress with a hilarious movie. Just don't stay up too late if you're among the 40 percent of HR professionals who are concerned about how much sleep they are losing because of their job! 

DO reset and recharge, your way. Follow the beat of your own drum and take time to decompress in ways that work for you. That might be taking a sweaty run or a hot bubble bath (maybe both!). Maybe it's treating yourself to a new book to read before bedtime or spending time in the garden or local greenhouse. The options are endless. You deserve the downtime, so take it.  
DON'T skip out on fun. Take time to socialize with your friends, family and coworkers – especially if you're energized by other people. Try to have something to look forward to every day, such as a phone call (or texting session!) with a friend, a favorite meal with the family or a weekend get-together with neighbors. If the social plans leave you feeling more stressed, politely free up your schedule and refer to the last "DO" on this list! 

DO use your employee benefits. Isn't that what you always say? According to a recent survey, less than half (42 percent) of HR professionals have used or considered using their company's EAP/mental health benefit. You know better than that! If you need support, call that hotline, open your wellbeing app and make an appointment to see your doctor or therapist – those benefits are there to help you stay healthy and happy. 
Third, Heed These Occupational Tips From the WHO 
All of the healthy lifestyle and self-care practices in the world can't solve your stress and burnout problems if there are systemic challenges at your workplace, such as insufficient resources, heavy workloads and unrealistic performance expectations. Most of these issues can't be fixed overnight, but if you and your team start addressing them now, you may feel significantly better next time OE season rolls around.  
The World Health Organization (WHO) spells out a number of preventive measures to avoid occupational stress, burnout and fatigue. These include: 
Setting clear and consistent goals. This basic advice can go far in helping you feel more in control of your workload, management expectations and everyday contributions to the team. 

Providing training and work-focused consultations to increase role effectiveness, conflict resolution and coping strategies. Getting work-sponsored outside support across various dimensions of work-life can help everyone on your team learn how to communicate better and build resilience.  

Encouraging the development of support groups and resource exchange networks. If your organization doesn't sponsor or facilitate peer networks for connecting and sharing, consider setting them up and tapping into the power of support from colleagues.  

Maximizing staff autonomy and participation in decision-making. People who feel empowered in their jobs and know that their voices are heard and make a difference naturally enjoy a more positive work experience. 
Organizing work to reduce job strain by optimizing workloads, shifts and staffing levels. This is especially important leading up to OE season, but you may be able to identify areas for year-round improvement. 
If you're not in the position to influence or execute on these recommendations, talk with someone on your team who can.   
Feeling Better Already? 
Stress – and especially burnout – is a serious issue plaguing HR professionals. If you follow these recommendations, and encourage your colleagues to do the same, you'll likely find it at least a little easier to navigate the ups and downs of being a benefits administrator, the whole year through.